OIL CONSUMERS' COUNCIL . APPOINTED T HE Minister of Fuel and
11th February 1949
Page 7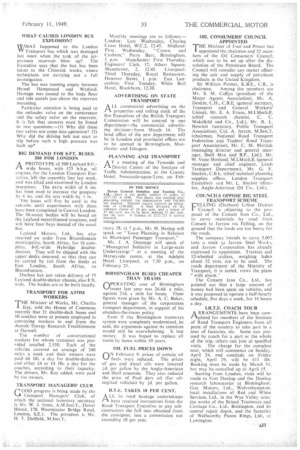 Page 7, 11th February 1949 —
OIL CONSUMERS' COUNCIL . APPOINTED T HE Minister of Fuel and
Close
Keywords :
Power has appointed the chairman and 32 members of the Oil Consumers' Council, which was to be set up after the dissolution of the Petroleum Board. The Council will consider any matter affecting the sale and supply of petroleum products in the United Kingdom.
Sir William Palmer, K.B.E., LB., is
chairman, Among the members are Mr. S. M. Caffyn (president of the Motor Agents Association), Mr. A. Deakin, C.14., C.B.E. (general secretary, Transport and General Workers' Won), Mr. E. A. Evans. M.I.Mech.E. (chief research chemist, C. C. Wakefield and Co., Ltd.), Mr. R. L. Howlett (secretary, Public Transport Association), Col. A. Jerretti Minst.T. (chairman, National Road Transport Federation and Traders' Road Transport Association), Mr. C. M. Mei'rick. (managing director and general manager, Shell Mex and B.P., Ltd.), Mr. W. Vane Morland, M.I.Mech.E. (general manager and chief engineer, Leeds Transport Department), Mr. G. F. Sinclair, C.B.E. (chief technical planning supplies officer, Landon Transport Executive) and Mr. L. Sinclair (director, Anglo-American Oil Co., Ltd.).
COUNCILS OPPOSE BIG STEEL TRANSPORT SCHEME
FELLING (Durham) Urban District Council is objecting to the proposal of the Consett Iron Co., Ltd., to carry materials by road from Conseil to Jarrow via Felling, on the ground that the loads are too heavy for the roads.
The company intends to carry 3.003 tons a week to Jarrow Steel Works, and Jarrow Corporation has already expressed its opposition. Tractors and I2-wheeled trailers, weighing laden about 32 tons, are to be used. The roads department of the Ministry of Transport, it is stated, views the plans "with alarm,'
The Consett Iron Co., Ltd., has pointed out that a large amount of money had been spent on vehicles, and it was proposed to operate a half-hourly schedule, five days a week, for 16 hours a day.
I.R.T.E. COACH TOUR
ARRANGEMENTS have been coinpleted for members of the Institute of Road Transport Engineers from all parts of the country to take part in a tour of factories, etc. Some can proceed by coach for a part or the whole of the trip, others can join at specified visits. The charge for the complete tour, which will commence on Sunday, April 24, and conclude on Friday night, April 29, will he £13 10s. Booking must be made by March 31, but may be cancelled up to Aril 15.
Starting from London, visits will be made to Fort Dunlop and the Dunlop research laboratories at Birmingham; Guy Motors, Ltd.,. Wolverhampton; local installations of Red and White Services, Ltd.. in the Wye Valley area; the works of the Bristol Tramways and Carriage Co., Ltd4 Brislington, and its central repair depot, and the factories of Wellworthy Piston Rings, Ltd., at Lymington.