Municipal Purchases and Proposals
11th February 1949
Page 6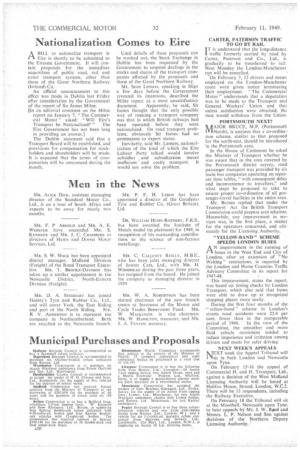 Page 6, 11th February 1949 —
Municipal Purchases and Proposals
Close
Holborn Borough Council is recommended to buy a Scammel! refuse collector. Dagenham Borough Council is recommended to purchase six Oschner-bodied refuse collectors from Rootes, Ltd.
Warrington Corporation is to purchase an Austin Wayfarer ambulance from Ernest Garbed and Son. Ltd.. Warrington.
Hertfordshire County Council is recommended to accept the tender of H. G. Creasey and Sans, Ltd., Knebworth. for the supply of live vehicles for the delivery of school meals.
Sheffield Corporation has received formal sanction from the Ministry of Transport to the borrowing of £295.059 for the purchase of 66 buses and the payment of eicess costs on 419 buses. Bolton Corporation is to buy a Bedford lose wheelbase 2-3-ton tipping lorry. W Krim:sins and Sony (Garages), ' Ltd. Bolton, -is supplying four Earrier double-cab refuse collectors . with 9-L6-cubic-yd, bodies and four Earner doublecab vehicles with 12-cubic-yd bodies. The corporation has received consent to borrow £198,140 for the purchase of 50 double-deck ond four single-deck buses.
A30
Ilirminghlim Health Committee recommends that, subject to the consent of the Minister of Health, 25 complete ambulances and 'eight atnbulance bodies be purchased at a total cost of £36.191 Liverpool Corporation is to buy the following from Voss Motors, Ltd., Liverpool:-10 Austin 5-ton tipping lorries. two Austin 10-cwt, vans and a Morris Electricar. Pethow. Ltd., Watford. Hems, is to supply a petrol-driven electric welding plant mounted on a two-wheeled trailer.
Manchester Corporation has accepted the tenders of Carr Brothers (Garages). Ltd., Purley, Surrey, for the supply of an Austin 5-ton tipping lorry, Lomas. Ltd" Manchester, for two Austin Wayfarer ambulance chassis with Lomas bodies. and Rooms, Ltd Manchestet, for two Earner am bula tees.
Poplar Borough Council is to buy three refusecollection vehicles and two 2-ton. end-tipping lorries from Rootts. Ltd., London. W.I. and a vehicle for six 1A-cubic-yd. portable refuse containers from Shelvoke and Drewry. Ltd.. Letchworth. Car Mart. Ltd.. London, NW 1. is supplying an Austin 10 h.p. shooting brake.