Men in the News
11th February 1949
Page 6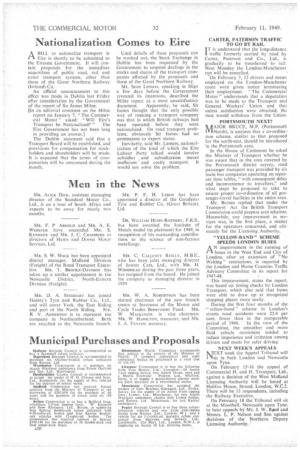 Page 6, 11th February 1949 —
Men in the News
Close
MR. ALICE Dick, assistant managing director of the Standard Motor Co., Ltd., is on a tour of South Africa and expects to be away for nearly two months. "
_ MR. F. P ARNOLD and MR. A. E. WERst-ER have Succeeded MR. S. KENNEDY and MR. J. C. CHAMBERS RS directors of Hants and Dorset Motor Services, Ltd.
MR, S. W. MACK has been appointed district manager, Midland Division (Freight) of the Road Transport Execu tive MR. T. BROOK EDAV ISON has taken up a similar appointment in the Newcastle District. North-Eastern Division (Freight).
Ma. D. A. STODDARE has joined Henley's Tyre and Rubber Co:, Ltd., and will cover York, the East Riding and part ot the North Riding. Ma. R V. ANDERSON is to represent the company in Northumberland. Beth are attached to the Newcastle branch. MR. P. E. H. LEROY has been appointed a director of the Goodyear Tyre and Rubber Co. (Great Britain), Ltd.
DR. WILLIAM HUME-ROTHE:BY, F.R.S.. has been awarded the Institute of Metals medal (in platinum) for 1949, in recognition of his outstanding contributions to the science of non-ferrous metallurgy.
MR. C. CALLCOTT REttty, M.B.E., who has been joint managing director Of Jowett Cars, Ltd., with MR. H. WOODHEAD during the past three years. has resigned from the board. He joined the company as managing director in 1939 MR. W. A. ROBERTSON has been elected chairman of the new branch centre at Inverness of the Motor and Cycle Trades Benevolent Fund. MR.
W /vIm:K.FNziE is vice chairman; MR. W HAMILTON, treasurer. and MR. J. A. FENTON secretary.
Tags
People
:
J. C. CHAMBERS RS
,
W. A. ROBERTSON
,
C. CALLCOTT
,
H. WOODHEAD
,
S. KENNEDY
,
E. H. LEROY
,
S. W. MACK
,
Dick
,
F. P ARNOLD
,
D. A. STODDARE
,
W HAMILTON
,
T. BROOK EDAV ISON