1948 Output 20,000 Up
11th February 1949
Page 4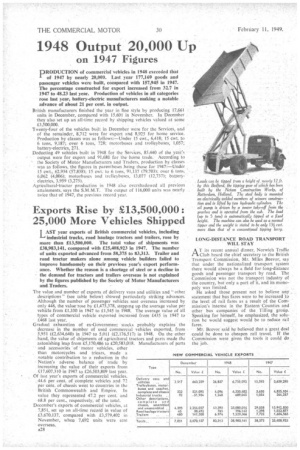 Page 4, 11th February 1949 —
1948 Output 20,000 Up
Close
on 1947 Figures
pRODUCTION of commercial vehicles in 1948 exceeded that
I of 1947 by nearly 20,000. Last year 177,169 goods and passenger vehicles were built, compared with 157,945 in 1947. The percentage constructed for export increased front 32.7 in 1947 to 48.23 last year. Production of vehicles in all categories " rose last year, battery-electric manufacturers making a notable advance of about 21 per cent, in output.
British manufacturers finished' the year in fine style by producing 17,661 units in December, compared with 15.601 in November. In December , they also set up an all-time record by shipping vehicles valued at some £3,500,000.
Twenty-four of the vehicles built in December were for the Services, and of the remainder, 8,712 were for export and 8,925 for home service. Production by classes was as follows:-Under 15 cwt., 6,418; 15 cwt. to 6 tons, 9,187; over 6 tons, 728; motorbuses and tr011eybuses, 1,057; battery-electrics, 271. . Deducting 49 vehicles built in 1948 for the Services, 85,440 of the year's output were for export and 91,680 for the %home trade. According to • the Society of Motor Manufacturers and Traders, production by classes was as follows, the figures in parentheses being those for 1947:--Under 15 cwt., 62.934(57,838); 15 cwt: to 6 tons, 91,137 (79.703); over 6 tons, 6,062 (4,006); motorbuses and trclleybuses. 13,077 (12,737); battery. electrics, 3,959 (3,275).
Agricultural-tractor production in 1948 also overshadowed all previous • attainments, says the S.M.M.T. The output of 116,000 units was nearly twice that of 1947, the previous record year.