Support for the Proposed Institute Continues to Grow
11th February 1944
Page 32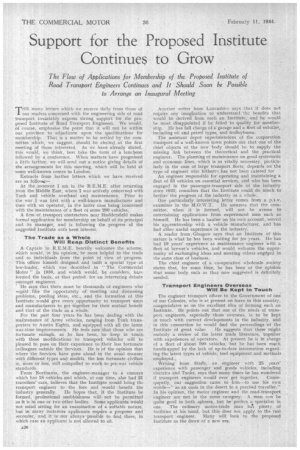 Page 32, 11th February 1944 —
Support for the Proposed Institute Continues to Grow
Close
The Flow of Applications for Membership of the Proposed Institute of Road Transport Engineers Continues and It Should Soon be Possible to Arrange an Inaugural Meeting
'THE many letters which we receive daily from those of I our readers concerned with the engineering side of road transport invariably express strong support for the proposed InStitute of Road Transport Engineers, We would, of course, emphasize the point that it will not be within our province to adjudicate upon the qualifications for membership. That is a matter to be settled by the committee which, we suggest, should he elected at the first meeting of those interested. As we have already stated, this would, we think, best take the form of a luncheon followed by a conference. When matters have progressed a little farther, we will send out a notice giving details of the arrangements for this meeting, which will be held at some well-known centre in London.
Extracts from further letters Which we have received. are as follo— At the moment I aril in the R.E.M.E. after returning from the Middle East, where I was actively concerned with Tank and vehicle overhaul and maintenance. Prior to the war I was first with a well-known manufacturer and then with an operator, in the latter case being 'Concerned with the maintenance of a fleet of some 200 vehicles.
A firm of ,transport contractors near Huddersfield makes formal application for membership on behalf of its principal and "its manager, and is following the progress Of the suggested Institute With keen interest.
The Trade as a Whole Will Reap:Distinct Benefits A Captain in R.E.M.E. heartily welcomes the scheme, which would, in his opinion; be most helpful to the trade and to individuals from the point of view of progress. This officer himself designed and built •a special type of low-loader, which was described in " The Commercial Motor " in 1938, and which would, he considers, ha,ve formed the basis,. at that:period. for an interesting debate amongst engineers.
' He says that there must be thousands of -engineers who wonld like the opportunity .of meeting and discussing problems, pooling ideas, etc., and the formation of this. Institute would give every opportunity to transport users and manufacturers to get together for their mutual benefit and that of the trade as a whole.
For the past four years he has been dealing with the maintenance of Army vehicles, ranging from Tank transporters to Austin Eights, and equipped with all the latest war-time improvements. He feels sure that those who are fortunate enough, as lie has been, to keep in touch with these modifications to transport vehicles will be pleased to pass on their experience to :their less fortunate colleagues outside the Services. Ile is Of the opinion that where the Services have gone ahead in the usual manner. with different types and models, the less fortunate civilian is, more or less, still compelled to work to pre-war vehicle standards.
From Northants, the engineer-manager to a concern which has 18 vehicles and which, at one time, also had 21 travellers' -ears, believes that the Institute would bring the transport engineer to the fore and would benefit the
industry generally. He hopes that, if the Institute be formed, professional snobbishness will not be permitted as it is in one or to other bodies. Some applicants would not mind sitting for an examination of a suitable nature; but in many instances applicants require a proposer and seconder, and it-is not always' possible to find these, in which case an applicant is not allowed to sit. •
Another writer from Lancashire says that it does not require any imagination to understand the benefits that would be derived from such an Institute, and he would be most disappointed if he. failed to qualify for membership. He has full charge of a' garage and a fleet of vehicles, including oil and petrol types, and trolleybuses. .
The assistant depot superintendent of the corporation transport of a well-known town points out that one of the chief objects of . the new body should -be to supply the missing link between the theoretical and the practical engineer. The planning of maintenance on good systematic and economic lines, which is so vitally necess.ary, particularly in the ease of large transport fleets, depends on the type of engineer whd hitherto has not been catered for
An engineer responsible for operating and maintaining a fleet of 54 vehicles on essential Services, and who has been engaged in the passenger-transport side of the industry since 1822, considers that the Institute could do much to further the progress of the industry as a whole.
One particularly interesting letter comes from a p.s.v.
examiner in the M.O.W.T. He assumes that thecommittee, when it is formed, will not be averse to entertaining applications from experienced men such as himself. He has been a haulier on his own account, served his apprenticeship with a vehicle manufacturer, and has had other useful experience in the industry.
A reader from Glasgow says that an Institute of this nature is what he has been waiting for for years. He has had 19 years' experience as maintenance engineer With a fleet of brewer's vehicles, and would welcome the opportunity of exchanging ideas and Meeting others eneged in the same class of business.
The chief engineer of a co-operative wholesale society states that, for some time, he has been of the opinion that some body such as that now suggested is definitely needed.
Transport Engineers Overseas Will Be Kept in Touch
The engineer transport officer to the Government of one of our Colonies, who is at present on leave in this country, congratulates us on the ekcellent idea of forming such an Institute. He points out that one of the needs of transport engineers, especially those overseas, is to be kept in touch with current developments in the industry, and in this connection he would find the proceedings of the .Institute of great value. He sqggests that these might embody a review of the latest trade literature, together with experiences of operators. At present he is in charge of a fleet of about 100 vehicles, but he has been much handicapped by the lack of up-to-date information regarding the latest types of vehicle, tool equipment and methods employed., Writing from Staffs; an engineer with 25. years' experience with passenger and goods vehicles, including electries and Tanks, says that many times he has wondered if transport engineers would ever get together, Conseguiltily, our suggestion came to him—to use hi & own words—" as an oasis in the desert to a parched traveller." In his opinion, the motor engineer and the read-transport engineer are not in the same category. A mnn can be quite good in both spheres, but he prefers a specialist in one. The ordinary motor-trade man he's plenty of facilities at his hand, but this does not apply to the real transport engineer. Many will look to .the proposed Institute as the dawn of a new era.