Vulcan Models for 1944
11th February 1944
Page 28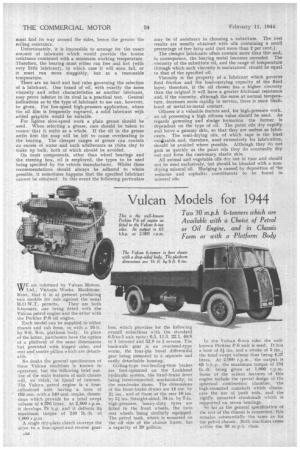 Page 28, 11th February 1944 —
Vulcan Models for 1944
Close
Two 30 m.p.h 6-tonners which are Available with a Choice of Petrol or Oil Engine, and in Chassis Form or with a Platform Body WE are informed by Vulcan Motors, Ltd., Victoria Works, Maidstone, Kent, that it is at present producing two models for sale against the usual
M.O.W.T. permits. They are both il-tonuers, one being fitted with the Vulcan petrol engine and the other with the Perkins P.6 oil engine.
Each model can be supplied in either chassis and cab form, or,with.a 16-ft. by 6-ft. 6-in. Platforrn body. In place of the latter, purchasers have the option of a platform of the same dimensions but provided with hinged sides, and rear and centre pillars which are detachable.
No doubt the general specification of these Vulcan machines is known to operators, but the following brief outline of the main features of each chassis will, we think, be found of interest. The Vulcan petrol engine is a fourcylindered unit having a bore of 102 mm. with a 140 mm. stroke, dimensions which provide for a total swept voila& of 4.576 litres. At 2,800 r.p.m. it develops 78 b.p. and it delivers its maximum torque of 210 lb.-ft. at 1.,000 r.p.m.
A single dry-plate clutch conveys the drive to a fOur-speed-and-reverse gear
box, which provides for the following overall reductions With the standard 6.5-to-1 axle ratio : 6.5, 11.3, 22.1, 40:8 to 1 forward and 52.8 to 1 reverse. The back-axle gear is an overhead-type worm, tbc four-pin bevel differential gear being mounted in a separate and easily detachable housing.
Girling-type two-leading-shoe brakes are foot-operated on the Lockheed hydraulic system, the hand-brake lever being interconnected, mechanically, to the rear-brake shoes. The dimensions of the front-brake drums are 14 ins. by 21 ins., and of those at the rear 16 ins. by :31 ins. Straight-sided, 34-in. by 7-in. high-pressure, heavy-duty tyres are fitted to the front wheels, the twin rear wheels being similarly equipped. The petrol tank, which is mounted on the off side of the chassis frame, has a capacity of 20 gallons. In the Vulcan 6-ton oiler the wellknown Perkins P.O unit is used. It has a bore of 31 ins, and a stroke of 5 ins., the total swept volume thus being 4.37. litres. At 2,000 r.p.m., the output is 65 b.h.p., the maximum torque of 184 lb.-ft. being given at 1,000 r.p.m. Some of the salient features of this engine include the special design of the spherical combustion chamber, the high-mounted camshaft which eliminates the use of push rods, and the rigidly mounted crankshaft which is supported on seven bearings.
So far as the general specification of the rest of the chassis is concerned, this remains substantially the same as for the petrol chassis. Both machines come within the 30 m.p.h. class.