Personal Pars
11th February 1944
Page 19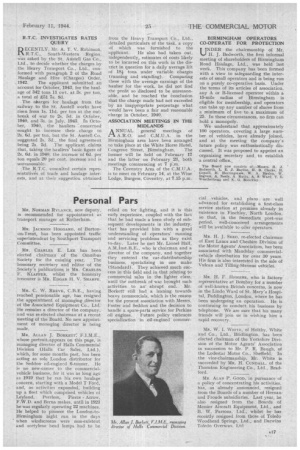 Page 19, 11th February 1944 —
Personal Pars
Close
MR. NORMAN RYLANCE, now deputy, is recommended for appointment as transport manager at Rotherham.
MR. JACKSON HOGGARD, of Burtonon-Trent, has been appointed traffic superintendent by Southport Transport Corn mittee.
MR. CHARLES E. LEE has been 'elected chairman of the Omnibus Society for the ensuing year. The honorary secretary and editor of the Society's publications. is MR. CHARLES F. KI.APIER, whilst the honorary treasurer is MR. EDGAR H. V. SHARPE.
MR. C. W. REEVE, C.B.E,, having reached. pensionable age, has, resigned the appointment of managing director Of the Associated Equipment Co., Ltd. He remains a director of the company, and was re-elected chairman at a recent Meeting of the Board. No new appointment of managing director is being made.
MR. ALLAN J. BORKETT: F.I.M.E., whose portrait appears on this page, is managing director of Halls Commercial Division (Halls Car Sales, Ltd.), which, for some months past, has been acting as sole London distributor for the Seddon oil-engincd 6-tonner.. He is no new-corner to the commercial, vehicle business, for it was as long ago as 1919 that he ran his own haulage concern, starting with a Model T Ford, and, as activities expanded, building up a fleet which comprised vehicles ol Leyland, . Peerless, Pierce Arrow, F.W.D. and Berna makes, until in 1023 he was regularly operating 22 machines. He helped to pioneer the London-toBirmingham 'night run in the days when windscreens were non-existent and acetylene head lamps had to be relied on for lighting, and it is this early experience, coupled with the fact that he had made a keen study of subsequent developments in the industry, that has provided him with a good understanding of operators' running and servicing problems as they exist to-clay. Later he met Mr. Lionel Hall, A.M.Inst.B.E,, who is chairman and a director of the company, and together they entered the car-distributorship business, specializing in one make (Standard). They achieved much success in.this field and in that relating to commercial sales in the lighter class, until the outbreak of war brought such activities to arc abrupt end. Mr. Borkett still had a leaning towards heavy commercials, which is the reason for the present association with Messrs. Foster and Seddon and the decision to handle a spare-parts service for Perkins oil engines. Future policy embraces specialization in oil-engined commer cial vehicles, and plans are well advanced for establishing a first-class service station at premises already in existence in Finchley, North London, so that, in the immediate post-war period, well-conceived arrangements will be available to oiler operators.
Ma. H. J. SEED, re-elected chairman of East Lanes and Cheshire Division of the Motor Agents' Association, has been associated with Maudslay commercialvehicle distribution for over 30 years. His firm is also interested in the sale of Vulcan and Tilling-Stevens vehicles.
MR. H. F. Hiccmis, who is factory representative at Bombay for a:number of well-known British concerns, is now in the Lindo Ward of St. Mary's Hospital, Paddingtim, London, where he has been undergoing an operation. He is continuing -to conduct his business by telephone. We are sure that his many friends will join us in wishing him a rapid recovery.
MR. W. I. WHITE, of Holtby, White and Co., Ltd., Bridlington, has been elected chairman of the Yorkshire Division of the Motor Agents' Association in succession to Mr. P. R. Baugh, of the Lodestar Motor Co., Sheffield. In the vice-chairmanship, Mr, 'White is succeeded by MR. H. CUNDALL, of the Thornton Engineering Co., Ltd., Bradford.
Ma. ALAN P. GOOD, in pursuance of a policy of concentrating his activities, has, as already announced, resigned from the Boards of a number of Heenan. and Fronde subsidiaries. Last year, he also resigned from the Boards of Messier Aircraft Equipment, Ltd., and B. W. Parsons, Ltd., whilst he has recently resigned from those of Toledo Woodhead Springs, Ltd., and Darwins Toledo Overseas, Ltd
Tags
People
:
JACKSON HOGGARD
,
P. R. Baugh
,
EDGAR H. V. SHARPE
,
CHARLES F. KI
,
H. CUNDALL
,
Lionel Hall
,
H. F. Hiccmis
,
CHARLES E. LEE
,
ALLAN J. BORKETT
,
ALAN P. GOOD
,
C. W. REEVE
,
Burtonon-Trent
,
Pierce Arrow
,
NORMAN RYLANCE