Passing Comments
11th February 1944
Page 14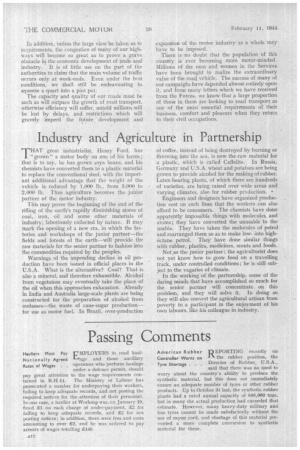 Page 15
Page 14, 11th February 1944 —
Passing Comments
Close
Hauliers Must Pay L'AIPLOYERS in road haulNationally Agreed "age and those ancillary Rates of Wages . . operators -who perform haulage under a defence permit, should pay great attention to the wage requirements contained in R.H.14. The Ministry of Labour has prosecuted a number for underpaying their workers, failing to keep adequate records, and not posting the required notices for the:attention of their personnel. In one case, a haulier at Worksop was, on January 19, fined £1. On each charge of under-payment, E.2 for failing to keep adequate records, and for not posting notices ;.in addition, there were fees and costs amounting to over £2, and he was ordered to pay arrears of wages totalling £146. REPORTING recently on the rubber position, the Director of Rubber, U.S.A., said that there was no need to worry about the country's ability to produce the synthetic material, but this does not immediately ensure an adequate number of tyres or other rubber products. Up to October 31 last, the synthetic rubber plants had a rated annual capacity of 646,000 tons, but in many the actual production had exceeded that estimate. However, many heavy-duty military and bus tyres cannot be made satisfactorily without the use of rayon cord, and shortage of this material prevented a more complete conversion to synthetic material for these.
American Rubber Controller Warns on Tyre Shortage . . .
rWO more examples of humour in typing have been brought to our notice. Simms Motor Units, Ltd., mentions that, in the early. days of the war, the company's service manager required to make urgent contact with one of his engineers, and he dictated .a note : "Please arrange to ring the writer in the morning." At that 'time there was much talk of enemy invasion, and the engineer's feelings can be imagined when he received the request : " Please arrange to bring your rifle in the morning." One of the best-known manufacturers had an experience which shows that a sense of humour is not entirely absent in Whitehall. In Connection with a document sent to a Ministry, a typist was told to add the words: "Please sign and return," but, as received, it read : "Please sing and return." Eventually it came back-with the word " Hallelujah " and the appropriate signature.
Errors
A CCORD1NG to. the official
organ of the Tasmanian Automobile Chamber of Commerce, a small band of pioneers is working to establish what is described as a nationally important venture, which may well become one of the country's richest assets. The task in hand is the obtaining of methane gas from the workings of an old colliery, closed about 1930 because of the excess of this gas present. A geologist's report states that 1,000,000. cubic ft. of methane were liberated while 400 tons of coal were being hewn. In 1941 an expert on natural gas stated that if the mine could be sealed and vacuum pumps installed, 3,000,000 cubic ft. of gas could be removed daily for at least 60 years: Tests showed that 120 cubic ft. of the methane equal a gallon of petrol, and the gas, when liquified, is only half the weight of petrol. Further details of this enterprise will be awaited with considerable interest. Obtaining Methane Gas Fuel from a Tasmanian Mine .