Tax on Home-produced Fuel ?
11th August 1933
Page 27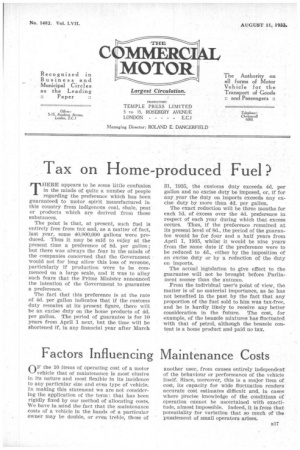 Page 27, 11th August 1933 —
Tax on Home-produced Fuel ?
Close
THERE appears to be some little confusion in the minds of quite a number of people regarding the preference which has been guaranteed i to motor spirit Manufactured in this country from indigenous coal, shale, peat or products which are derived from those substances.
The point is that, at present, such fuel is entirely free from tax and, as a matter of fact, last year, some 40,000,000 gallons were produced. Thus it may be said to enjoy at the present time a preference of 8d. per gallon ; but there was always the fear in the minds of the companies concerned that the Government would not for long allow this loss of revenue, particularly if production were to be commenced on a large scale, and it was to allay such fears that the Prime Minister announced the intention of the Government to guarantee a preference.
The fact that this preference is at the rate of 4d. per gallon indicates that if the customs duty remains at its present figure, there will be an excise duty on the home products of 4d. per gallon. The period of guarantee is for 10 years from April 1 next, but the time will be shortened if, in any financial year after March 31, 1935, the customs duty exceeds 4d. per gallon and no excise duty be imposed, or, if for any year the duty on imports exceeds any excise duty by more than 4d. per gallon.
The exact reduction will be three months for each id. of excess over the 4d. preference in respect of each year during which that excess occurs. Thus, if the preference remained at its present level of 8d., the period of the guarantee would be for four and a half years from April 1, 1935, whilst it would be nine years from the same date if the preference were to be reduced to 4d., either by the imposition of an excise duty or by a reduction of the duty on imports.
The actual legislation to give effect to the guarantee will not be brought before Parliament sooner than the autumn.
From the individual user's point of view, the matter is of no material importance, as he has not benefited in the past by the fact that any proportion of the fuel sold to him was tax-free, and he is hardly likely to receive any better consideration in the future. The cost, for example, of the benzole mixtures has fluctuated with that of petrol, although the benzoic content is a home product and paid no tax.