How to define . special reasons'
11th April 1975
Page 53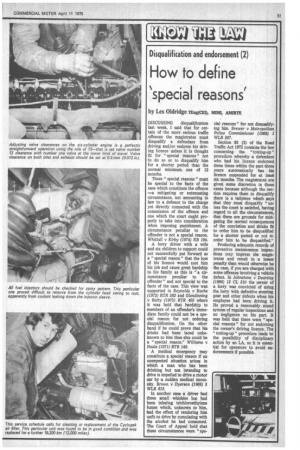 Page 53, 11th April 1975 —
How to define . special reasons'
Close
by Les Oldridge TEng(cED, mall, AlVIIRTE
DISCUSSING disquallification last week, I said that for certain of the more serious traffic offences the magistrates must disqualify a defendant from driving and/or endorse his driving licence unless it is thought fit for "special reasons" not to do so or to disqualify him for a shorter period than the normal minimum one of 12 months.
These "special reasons" must be special to the facts of the case which constitute the offence —a mitigating or extenuating circumstance, not amounting in law to a defence to the charge yet directly connected with the commission of the offence and one which the court ought properly to take into consideration when imposing punishment. A circumstance peculiar to the offender is not a special reason. Whittall v Kirby (1974) KB 194.
A lorry driver with a wife and six children to support could not successfully put forward as a " special reason" that the loss of his licence would cost him his job and cause great hardship to his family as this is " a circumstance peculiar to the offender" and not special to the facts of the case. This view was supported in Reynolds v Roche (1972) RTR 282 and Glendinning v Batty (1973) RTR 405 Where it was held that hardship to members of an offender's immediate family could not be a special reason for not ordering disqualification. On the other hand if he could prove that his drinks had been laced unbeknown to him then this could be a "special reason." Williams v Neale (1971) RTR 149.
A medical emergency may constitute a special reason if an unexpected situation arises in which a man who has been drinking but not intending to drive is impelled to drive a motor car by a sudden medical necessity. Brown v Dyerson (1968) 3 WLR 615.
In another case a driver had three small whiskies but had been inhaling trichloroethylene fumes which, unknown to him, had the effect of rendering him unfit to drive by cumulating with the alcohol he had consumed. The Court of Appeal held that these circumstances were "spe
cial reasons" for not disqualifying him. Brewer v Metropolitan Police Commissioner (1969) 1 WLR 267.
Section 93 (3) of the Road Traffic Act 1972 contains the law concerning the " totting-up " procedure whereby a defendant who had his licence endorsed three times within the past three years automatically has his licence suspended for at least six months. The magistrates are given some discretion in these cases because although the section requires them to disqualify there is a 'tailpiece vutich says that they must disqualify "unless the court is satisfied, having regard to all the circumstances, that there are grounds for mitigating the normal consequences of the conviction and thinks fit to order him to be disqualified for a shorter period or not to order him to be disqualified."
Producing adequate records of preventive maintenance inspections may impress the magistrates and result in a lesser penalty than would otherwise be the case, if you are charged with some offences involving a vehicle defect. In Johnstone v Dearsley (1966) 12 CL 310 the owner of a lorry was convicted of using the lorry with defective steering gear and other defects when his employee had been driving it. He proved a reasonably. sound system of regular inspections and no negligence on his part. It was held that there were "special reasons" for not endorsing the owner's driving licence. The " totting-up" procedure leads to the possibility of disciplinary action by an LA, so it is essential for operators to avoid endorsements if possible.