IF RON USES
10th September 1976
Page 44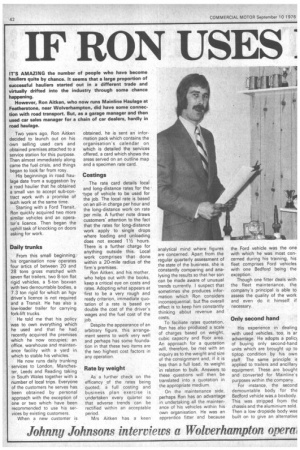 Page 45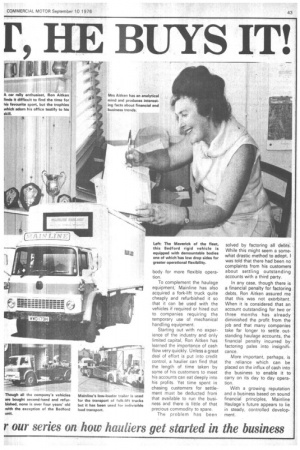 Page 44, 10th September 1976 —
IF RON USES
Close
F, HE BUYS IT!
ITS AMAZING the number of people who have become hauliers quite by chance. It seems that a large proportion of successful hauliers started out in a different trade and virtually drifted into the industry through some chance happening.
However, Ron Aitken, who now runs Mainline Haulage at Featherstone, near Wolverhampton, did have some connection with road transport. But, as a garage manager and then used car sales manager for a chain of car dealers, hardly in road haulage.
Two years ago, Ron Aitken decided to launch out on his own selling used cars and obtained premises attached to a service station for this purpose. Then almost immediately along came the fuel crisis, and things began to look far from rosy.
His beginnings in road haulage date from a suggestion by a road haulier that he obtained a small van to accept sub-contract work with a promise of such work at the same time.
Starting with a Ford Transit, Ron quickly acquired two more similar vehicles and an operator's licence. Then began the uphill task of knocking on doors asking for work.
Daily trunks From this small beginning,, his organisation now operates four artics of between 20 and 28 tons gross matched with seven flat trailers, two 8-ton flat rigid vehicles, a 5-ton boxvan with two demountable bodies, a 7.3 ton rigid for which an hgv driver's licence is not required and a Transit. He has also a low-loader trailer for carrying fork-lift trucks.
• He told me that his policy was to own everything which he used and that he had . recently acquired the premises which he now occupies; an office, warehouse and maintenance facility with a yard in which to stable his vehicles.
He now runs daily trunking services to London, Manchester, Leeds and Reading taking in South Wales together with a number of local trips. Everyone of the customers he serves has been obtained by personal approach with the exception of one or two which have been recommended to use his services by existing customers.
When a new customer is obtained, he is sent an information pack which contains the organisation's calendar on which is detailed the services offered, a card which shows the areas served on an outline map and a specimen rate card.
Costings The rate card details local and long-distance rates for the .type of vehicle to be used for the job. The local rate is based on an all-in charge per hour and the long-distance work on rate per mile. A further note draws customers' attention to the fact that the rates for long-distance work apply to single drops where loading and unloading does not exceed 11/2 hours. There is a further charge for anything outside this. Local work comprises that done within a 20-mile radius of the firm's premises.
Ron Aitken, and his mother, who helps out with the books, keep a critical eye on costs and rates. Adopting what appears at first to be a very rough and ready criterion, immediate quotation of a rate is based on double the cost of the driver's wages and the fuel cost of the job.
Despite the appearance of an arbitrary figure, this arrangement seems to work very well and perhaps has some foundation in that these two items are the two highest cost factors in any operation.
Rate by weight
As a further check on the efficency ,of the rates being quoted, a full costing and business plan exercise is undertaken every quarter so that adverse trends can be rectified within an acceptable period.
Mrs Aitken has a keen
analytical mind where figures are concerned. Apart from the regular quarterly assessment of .the state of the business, she is constantly comparing and analysing the results so that her son can be made aware of unusual trends currently. I suspect that sometimes she produces information which Ron considers inconsequential, but the overall effect is to keep him constantly thinking about revenue and costs.
To faciliate rates quotation, Ron has also produced a scale of charges based on weight, cubic capacity and floor area. An approach for a quotation will, therefore, be met with an inquiry as to the weight and size of the consignment and, if it is .less than a full load, its weight. in relation to bulk. Answers to these questions will then be translated into a quotation in the appropriate medium.
On the maintenance side, perhaps Ron has an advantage in undertaking all the maintenance of his vehicles within his own organisation. He was an apprentice fitter and because the Ford vehicle was the one with which he was most concerned during his training, his fleet comprises Ford vehicles with one Bedford being the exception.
Though one fitter deals with the fleet maintenance, the company's principal is able to assess the quality of the work and even do it himself if necessary.
Only second hand His experience in dealing with used vehicles, too, is .ar advantage. He adopts a polic) of buying only second-hand units which are brought up to tiptop condition by his own staff. The same principle is applied to trailers and ancillary equipment. These are bought and converted for Mainline's purposes within the company.
For instance, the second demountable body for the Bedford vehicle was a boxbody. This was stripped from the chassis and the aluminium sold. Then a low dropside body was built on to give an alternative body . for more flexible operation.
To complement the haulage equipment, Mainline has also acquired a fork-lift truck quite cheaply and refurbished it so that it can be used with the vehicles if required or hired out to companies requiring the temporary use of mechanical handling equipment.
Starting out with no experience of the industry and only limited capital, Ron Aitken has learned the importance of cash flow very quickly. Unless a great deal of effort is put into credit control, a haulier can find that the length of time taken by some of his customers to meet his accounts can eat deeply into his profits. Yet time spent in chasing customers for settlement must be deducted from that available to run the business and there is little of that precious commodity to spare.
The problem has been solved by factoring all debts. While this might seem a somewhat drastic method to adopt, I was told that there had been no complaints from his customers about settling outstanding accounts with a third party.
In any case, though there is a financial penalty for factoring .debts, Ron Aitken assured me that this was not exorbitant. When it is considered that an account outstanding for two or three months has already diminished the profit from the job and that many companies take far longer to settle outstanding haulage accounts, the financial penalty incurred by factoring pales into insignificance.
More important, perhaps, is the reliance which can be placed on the influx of cash into the business to enable it to carry on its day to day operation.
With a growing reputation and a business based on sound financial principles, Mainline Haulage's future appears to lie in steady, controlled development.