Scare tactics?
10th September 1976
Page 34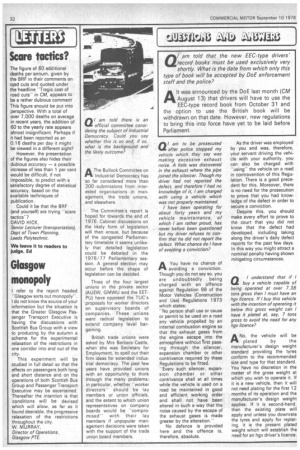 Page 34, 10th September 1976 —
Scare tactics?
Close
The figure of 60 additional deaths per annum, given by the BRF in their comments on road cuts and quoted under the headline "Tragic cost of road cuts" in CM, appears to be a rather dubious comment This figure snouid be put into perspective. With a total of over 7,000 deaths on average in recent years, the addition of 60 to the yearly rate appears almost insignificant. Perhaps if it had been reported as an 0.16 deaths per day it might be viewed in a different sight?
However, the presentation of the figures also hides their dubious accuracy — a possible increase of less than 1 per cent would be difficult, if not impossible, to predict with a satisfactory degree of statistical accuracy, based on the available techniques of publication.
Could it be that the BRF (and yourself) are trying "scare tactics"?
DAVID HICK, Senior Lecturer (transportation), Dept of Town Planning, Leeds Polytechnic.