a l am to be prosecuted after police stopped my vehicle
10th September 1976
Page 34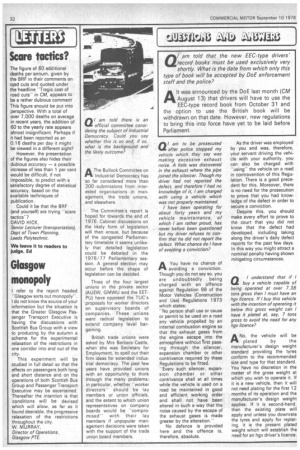 Page 34, 10th September 1976 —
a l am to be prosecuted after police stopped my vehicle
Close
which they say was making excessive exhaust noise. A hole was discovered in the exhaust where the pipe joined the silencer. Though my driver had not reported the defect, and therefore I had no knowledge of it, I am charged with using a vehicle which was not properly maintained.
I have been operating for about forty years and my vehicle maintainance, of which I am rather proud, has never before been questioned but my driver refuses to confirm that he did not report the defect. What chance do I have of avoiding a conviction?
AYou have no chance of avoiding a conviction. Though you do not say so, you are undoubtedly being charged with an offence against Regulation 98 of the Motor Vehicles (Construction and Use) Regulations 1973 which states: -No person shall use or cause or permit to be used on a road any vehicle propelled by an internal combustion engine so that the exhaust gases from the engine escape into the atmosphere without 'first passing through the silencer, expansion chamber or other contrivance required by these Regulations to be fitted.
"Every such silencer, expansion chamber or other contrivance shall at all times while the vehicle is used on a road be maintained in good and efficient working order and shall not have been altered in such a way that the noise caused by the escape of the exhaust gases is made greater by the alteration:
No defence is provided here and the offence is, therefore, absolute.
As the driver was employed by you and was, therefore, your servant driving the vehicle with your authority, you can also be charged with -usingthe vehicle on a road in contravention of this Regulation. There is a good precedent for this. Moreover, there is no need for the prosecution to prove that you had knowledge of the defect in order to secure a conviction.
Despite this, you should make every effort to prove to the court that you did not know that the defect had developed, including taking along the driver's daily defect reports for the past few days. In this way you might attract a nominal penalty having shown mitigating circumstances.