Ford beefs up transit
10th September 1976
Page 20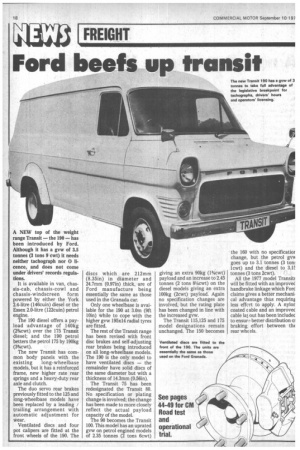 Page 20, 10th September 1976 —
Ford beefs up transit
Close
A NEW top of the weight range Transit — the 190 — has been introduced by Ford. Although it has a gvw of 3.5 tonnes (3 tons 9 cwt) it needs neither tachograph nor 0 licence, and does not come under drivers' records regulations.
It is available in van, chassis-cab, chassis-cowl and chassis-windscreen form powered by either the York 2.4-litre (I46cuin) diesel or the Essex 2.0-litre (122cuin) petrol engine. .
The 190 diesel offers a payload advantage of 140kg (Newt) over the 175 Transit diesel; and the 190 petrol betters the petrol 175 by 190kg (33Acwt).
The new Transit has common body panels with the existing long-wheelbase models, but it has a reinforced frame, new higher rate rear springs and a heavy-duty rear axle and clutch.
The duo servo rear brakes previously fitted to the 125 and long-wheelbase models have been replaced by a leading trailing arrangement with automatic adjustment for wear.
Ventilated discs and four pot calipers are fitted at the front wheels of the 190. The discs which are 212mm (8.35in) in diameter and 24.7mm (0.97in) thick, are of Ford manufacture being essentially the same as those used in the Granada car.
Only one wheelbase is available for the 190 at 3.0m (9ft 10in) while to cope with the higher gvw 195x14 radial tyres are fitted.
The rest of the Transit range has been revised with front disc brakes and self-adjusting rear brakes being introduced on all long-wheelbase models. The 190 is the only, model to have ventilated discs — the remainder have solid discs of the same diameter but with a thickness of I4.3mm (0.56in).
The Transit 75 has been redesignated the Transit 80. No specification or plating change is involved; the change has been made to more closely reflect the actual payload capacity of the model.
The 90 becomes the Transit 100. This model has an uprated gvw on petrol engined models of 2.35 tonnes (2 tons 6cwt) giving an extra 90kg (lkscwt) payload and an increase to 2.45 tonnes (2 tons 81/4cwt) on the diesel models giving an extra 100kg (2cwt) payload. Again no specification changes are involved, but the rating plate has been changed in line with the increased gvw.
The Transit 115,125 and 175 model designations remain unchanged. The 150 becomes the 160 with no specificatiox change, but the petrol gym goes up to 3.1 tonnes (3 ton: lcwt) and the diesel to 3.1f. tonnes (3 tons 2cwt).
All the 1977 model Transit: will be fitted with an improvec handbrake linkage which Forc claims gives a better mechani. cal advantage thus requirinf less effcrt to apply. A nylor coated cable and an improvec cable la 3 out has been includec to ensur better distribution oi braking effort between thE rear whE els.