DISMISSAL CLAIM DISMISSED
10th September 1976
Page 18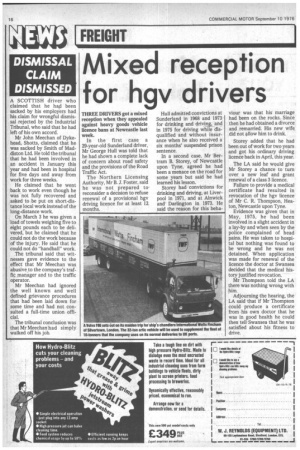 Page 18, 10th September 1976 —
DISMISSAL CLAIM DISMISSED
Close
A SCOTTISH driver who claimed that he had been sacked by his employers had his claim for wrongful dismissal rejected by the Industrial Tribunal, who said that he had left of his own accord.
Mr John Meechan of Dykehead, Shotts, claimed that he was sacked by Smith of Maddiston Ltd. He told the tribunal that he had been involved in an accident in January this year and had been in hospital for five days and away from work for three weeks.
He claimed that he went back to work even though he was not fully recovered and asked to be put on short-distance local work instead of the long-distance work, On March 3 he was given a load of towels weighing five to eight pounds each to be delivered, but he claimed that he could not do the work because of the injury. He said that he could not do "handball" work.
The tribunal said that witnesses gave evidence to the effect that Mr Meechan was abusive to the company's traffic manager and to the traffic operator.
Mr Meechan had ignored the well known and well defined grievance procedures that had been laid down for some time and had not consulted a full-time union official.
The tribunal conclusion was that Mr Meechan had simply walked off his job.