Motor Industry's Contribution Towards Victory
10th September 1943
Page 20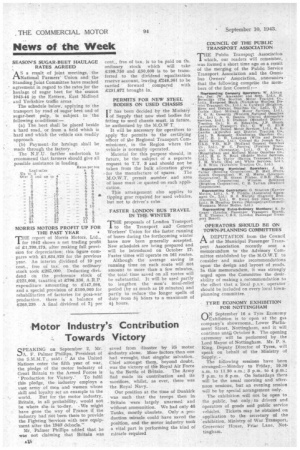 Page 20, 10th September 1943 —
Motor Industry's Contribution Towards Victory
Close
CPEAKING on September 2, Mr. OA. F. Palmer Phillips, President of the S.M.M.T., said : As the United Nations enter the fifth year of war, the, pledge of the motor industry of Great Britain to the Armed Forces is
'Production for Victory.' To fulfil this pledge, the industry employs a vast army of men and women whose skill and loyalty set an example to the world. But for the motor industry, Britain, in all probability, would not be where she is to-day. We might have gone the way of France if the industry had not been there to provide the Fighting Services with new equipment alter the 194C/ debacle."
Mr. Palmer Phillips added that he was not claiming that Britain was
saved from disaster by itS motor industry alone. More factors than one had wrought. that singular salvation. Chief amongst them, beyond doubt, was the victory of tfi-e Royal Air Force in the Battle of Britain. The Army had made its contribution and its sacrifices, whilst, as ever, there was the Royal Navy.
Our position at the time of Dunkirk was such that the troops then in Britain were largely unarmed and without ammunition. We had only 46 Tanks, mostly obsolete. Only a production miracle could have saved the position, and the motor industry took a vital part in performing the kind of miracle required.