Bigger Body Show for Extended Vehicle Range
10th May 1963
Page 54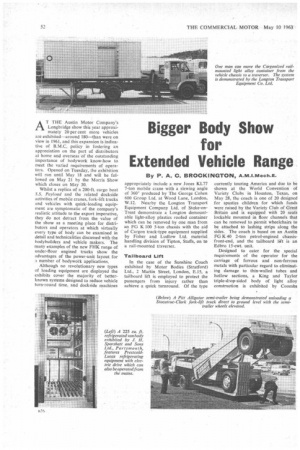 Page 55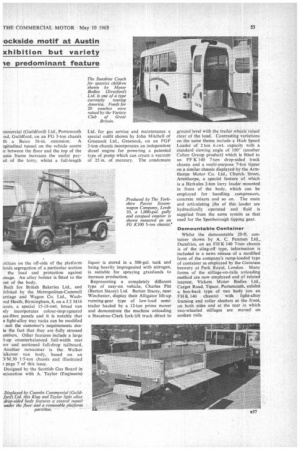 Page 54, 10th May 1963 —
Bigger Body Show for Extended Vehicle Range
Close
Keywords :
Articulated Vehicles
,
Ancient Greek Technology
,
Cranes
,
Technology
,
Chassis
,
Truck
,
Semi-trailer
,
Lorry
,
Tractor Unit
,
Mechanical Engineering
,
Tourism
By P. A. C. BROOKINGTON, A.M.I.Mech.E.
T THE Austin Motor Company's Long bridge show this year approxi
mately 20 per cent more vehicles are exhibited—around 180—than were on view in 1961, and this expansion is indicative of B.M.C. policy in fostering an appreciation on the part of distributors at home and overseas of the outstanding importance of bodywork know-how to meet the varied requirements of operators. Opened on Tuesday, the exhibition will run until May 18 and will be followed on May 21 by the Morris Show which closes on May 30.
Whilst a replica of a 200-ft. cargo boat S.S. Payload and the related dockside activities of mobile cranes, fork-lift trucks and vehicles with quick-loading equipment are symptomatic of the company's realistic attitude to the export imperative, they do not detract from the value of the show as a meeting place for distributors and operators at which virtually every type of body can be examined in detail and technicalities discussed with the bodybuilders and vehicle makers. The many examples of the new FHK range of under-floor engined trucks show the advantages of the power-unit layout for a number of bodywork applications.
Although no revolutionary new types of loading equipment are displayed the exhibits cover the majority of betterknown systems designed to reduce vehicle turn-round time, and dockside machines
appropriately include a new Junes KL77 7-ton mobile crane with a slewing angle of 360° produced by The George Cohen 600 Group Ltd. at Wood Lane, London, W.12. Nearby the Longton Transport Equipment Company Ltd. of Stoke-onTrent demonstrate a Longton demountable light-alloy plastics roofed container which can be removed by one man from an FG K 100 5-ton chassis with the aid of Cargon track-type equipment supplied by Fisher and Ludlow Ltd. material handling division of Tipton, Staffs, on to a rail-mounted traverser.
Tailboard Lift In the case of the Sunshine Coach exhibited by Motor Bodies (Stratford) Ltd., 2 Martin Street, London, E.15, a tailboard lift is employed to protect the passengers from injury rather than achieve a quick turnround. Of the type currently touring America and due to be shown at the World Convention of Variety Clubs in Houston, Texas, on May 28, the coach is one of 20 designed for spastics children for which funds were raised by the Variety Club of Great Britain and is equipped with 20 seats lockable mounted in floor channels that can be removed to permit wheelchairs to be attached to lashing strips along the sides. The coach is based on an Austin FG K 40 2-ton petrol-engined chassisfront-end, and the tailboard lift is an Edbro 15-cwt. unit.
Designed to cater for the special requirements of the operator for the carriage of ferrous and non-ferrous metals with particular regard to eliminating damage to thin-walled tubes and hollow sections, a King and Taylor triple-drop-sided body of light alloy construction is exhibited by Coombs
mmercial (Guildford) Ltd., Portsmouth ,ad, Guildford, on an FG 5-ton chassis th a Baico 56-in. extension. A agitudinal tunnel on the vehicle centre le between the floor and the top of the assis frame increases the useful payad of the lorry, whilst a full-length irtition on the off-side of the platform Fords segregation of a particular section the load and protection against image. An alloy bolster is fitted to the ant of the body.
Built for British Bakeries Ltd., and .hibited by the Metropolitan-Cammell arriage and Wagon Co. Ltd., Wash)od Heath, Birmingham, 8, on a J.2 M16 tassis, a special 15-18-cwt. bread van ,cly incorporates colour-impregnated ass-fibre panels and it is notable that e light-alloy tray racks can be modified suit the customer's requirements deste the fact that they are fully stressed embers. Other features include a large I-up counterbalanced full-width rear ior and sectioned full-drop tailboard. Another newcomer is the Walker alkover van body, based on an D M.30. 1.5-ton chassis and illustrated page 7 of this issue.
Designed by the Scottish Gas Board in ■ njunction with A. Taylor (Engineers)
Ltd. for gas service and maintenance a special outfit shown by John Mitchell of Greenock Ltd., Greenock, on an FGF 3-ton chassis incorporates an independent diesel engine for powering a patented type of pump which can create a vacuum of 25 in. of mercury. The condensate
liquor is stored in a 500-gal. tank and being heavily impregnated with nitrogen, is suitable for spraying grasslands to increase production.
Representing a completely different type of easy-on vehicle, Charles Pitt (Barton Stacey) Ltd. Barton Stacey, near Winchester, display their Alligator lift-up running-gear type of low-load semitrailer hauled by a 12-ton prime mover and demonstrate the machine unloading a Stacatrue-Clark fork-lift truck direct to ground level with the trailer wheels raised clear of the load. Contrasting variations on the same theme include a Hiab Speed Loader of 2 ton 6 cwt. capacity with a standard slewing angle of 180' (another Cohen Group product) which is fitted to an FF K 140 7-ton drop-sided truck chassis and a multi-purpose 7-ton tipper on a similar chassis displayed by the Armthorpe Motor Co. Ltd., Church Street, Armthorpe, a special feature of which is a Herkules 2-ton lorry loader mounted in front of the body, which can be employed for handling compressors. concrete mixers and so on. The main and articulating jibs of this loader are hydraulically operated and fluid is supplied from the same systein as that used for the Spenboro ugh tipping gear.
Demountable Container
Whilst the demountable 20-ft. container shown by A. C. Penman Ltd., Dumfries, on an FliK 140 7-ton chassis is of the sling-off type, information is included in a news release of a modified form of the company's ramp-loaded type of container as employed by the Guinness brewery at Park Royal, London. Many forms of the stillage-on-rails unloading method are now employed and of related interest, Vickers Motor Bodies Ltd., Carget Road, Tipsor, Portsmouth, exhibit a box-back type of van body (on an FH K 140 chassis) with light-alloy framing and roller shutters at the front, on both sides and at the rear in which two-wheeled still ages are moved on sunken rails,