Bird's Eye View
10th May 1963
Page 44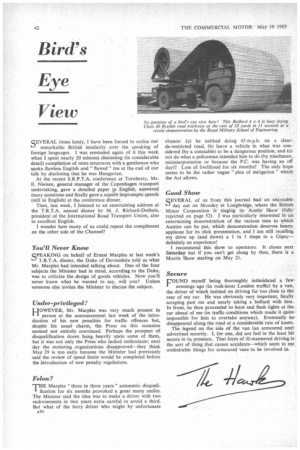 Page 44, 10th May 1963 —
Bird's Eye View
Close
SEVERAL times lately, I have been forced to notice our remarkable British insularity over the speaking of foreign languages. I was reminded again of it this week when I spent nearly 20 minutes discussing (in considerable detail) compilation of rates structures with a gentleman who spoke flawless English and " flawed " me at the end of our talk by disclosing that he was Hungarian.
At the recent S.R.P.T.A. conference at Turnberry, Mr. E. Nielsen, general manager of the Copenhagen transport undertaking, gave a detailed paper in English, answered many questions and finally gave a superb impromptu speech (still in English) at the conference dinner.
Then, last week, I listened to an entertaining address at the T.R.T.A. annual dinner by M. J. Richard-Deshais, president of the International Road Transport Union, also in excellent English.
I wonder how many of us could repeat the compliment on the other side of the Channel?
You'll Never Know
SPEAKING on behalf of Ernest Marples at last week's T.R.T.A. dinner, the Duke of Devonshire told us what Mr. Marples had intended talking about. One of the four subjects the Minister had in mind, according to the Duke, was to criticize the design of goods vehicles. Now you'll never know what he wanted to say, will you? Unless someone else invites the Minister to discuss the subject.
Under-privileged!
1...10WEVER, Mr. Marples was very much present in " person at the announcement last week of the introduction of his new penalties for traffic offences but, despite his usual charm, the Press on this occasion seemed not entirely convinced. Perhaps the prospect of disqualification doom hung heavily upon some of them, but it was not only the Press who lacked enthusiasm; next day the motoring organizations disapproved—they think May 29 is too early because the Minister had previously said the review of speed limits would be completed before the introduction of new penalty regulations.
Felon?
THE Marples "three in three years" automatic disqualification for six months provoked a great many smiles. The Minister said the idea was to make a driver with two endorsements in two years extra careful to avoid a third, But what of the lorry driver who might by unfortunate a30 chance: (a) be nabbed doing 45 m.p.h. on a clearde-restricted road, (b) leave a vehicle in what was considered (by a constable) to be a dangerous position, and (c) not do what a policeman intended him to do (by mischance, misinterpretation or because the P.C. was having an off day)? Loss of livelihood for six months? The only hope seems to be the rather vague "plea of mitigation" which the Act allows.
Good Show
SEVERAL of us from this journal had an enjoyable '—' day out on Monday at LOngbridge, where the British Motor Corporation is staging its Austin Show (fully reported on page 52). I was particularly interested in an entertaining demonstration of the various uses to which Austins can be put, which demonstration deserves hearty applause for its slick presentation, and I am still recalling my drive up (and down) a 1 in 1 slope in a Gipsy— definitely an experience!
I recommend this show to operators. It closes next Saturday but if you can't get along by then, there is a Morris Show starting on May 21.
Secure
FOUND myself being thoroughly intimidated a few evenings ago (in rush-hour London traffic) by a van, the driver of which insisted on driving far too close to the rear of my car. He was obviously very impatient, finally scraping past me and nearly taking a bollard with him. In front, he then proceeded to hoot and flash lights at the car ahead of me (in traffic conditions which made it quite impossible for him to overtake anyway). Eventually he disappeared along the road at a considerable rate of knots.
The legend on the side of the van (an armoured one) advertised security. I, for one, did not feel in the least bit secure in its presence. That form of ill-mannered driving is the sort of thing that causes accidents—which seem to me undesirable things for armoured vans to be involved in.