Tyre Repair System
10th May 1963
Page 43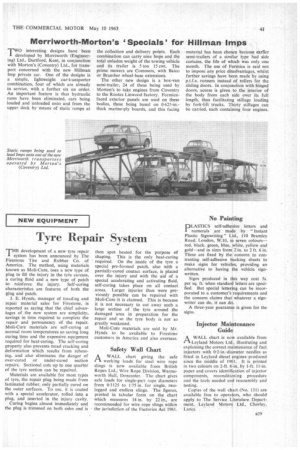 Page 43, 10th May 1963 —
Tyre Repair System
Close
THE development of a new tyre repair system has been announced by The Firestone Tire and Rubber Co. of America. The method, using materials known as Mob-Cure, Uses a new type of plug to fill the injury in the tyre carcass, a curing fluid and a new type of patch to reinforce the injury. Self-curing characteristics are features of both the plug and patch.
J. E. Hynds, manager of treading and repair material sales for Firestone, is reported as saying that the chief advantages of the new system are simplicity, savings in time required to complete the repair and permanency of the repair. Moli-Cure materials are self-curing at normal room temperatures so saving long curing time and the expensive equipment required for heat-curing. The self-curing property also prevents tread cracking and deformation which results from reheating, and also eliminates the danger of over-cured or under-cured section repairs. Sectional cuts up to one quarter of the tyre section can be repaired.
Materials are available for most types of tyre, the repair plug being made from laminated rubber, only partially cured on the outer surfaces. To use, it is coated with a special accelerator, rolled into a plug, and inserted in the injury cavity.
Curing begins almost immediately and the plug is trimmed on both sides and is then spot heated for the purpose of shaping. This is the only heat-curing required. On the inside of the tyre a special pre-formed patch, also with a partially-cured contact surface, is placed over the injury and with the aid of a special accelerating and activating fluid, self-curing takes place on all contact areas. Larger injuries than were previously possible can be repaired with Moli-Cure it is claimed. This is because it is not necessary to cut away such a large section of the tyre around the damaged area in preparation for the repair and so the tyre body is not so greatly weakened.
Moli-Cure materials are said by Mr. Hynds to be available to Firestone customers in America and also overseas.
Safety Wall Chart
I-1 A WALL chart giving the safe
working loads for steel wire rope slings is now available from British Ropes Ltd., Wire Rope Division, Warmsworth Hall, Doncaster. The chart gives safe loads for single-part rope diameters from 0.3125 to 1.75 in. for single, twolegged and endless slings. The figures, printed in tabular form on the chart which measures 14 in. by 22 in., are recommended for wire rope slings within the jurisdiction of the Factories Act 1961.