Transport Tribunal in Scotland Salmond Revocation Upheld J OHN SALMOND of
10th May 1963
Page 37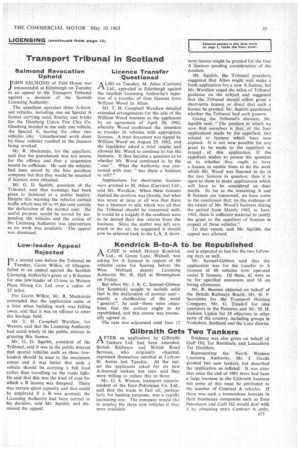 Page 37, 10th May 1963 —
Transport Tribunal in Scotland Salmond Revocation Upheld J OHN SALMOND of
Close
FaId House was unsuccessful at Edinburgh on Tuesday in an appeal to the Transport Tribunal against a decision of the Scottish Licensing Authority.
The appellant operated three A-licensed vehicles, including one on Special A licence carrying sand, fireclay and bricks for the Glenboig Union Fire Clay Co. Glenboig decided to use only one vehicle, the Special A, leaving the other two vehicles idle. Unauthorized work done by these vehicles resulted in the licences being revoked.
Mr. R. Mackenzie, for the appellant, said that the punishment was too severe for the offence and that a suspension would he sufficient. He said the vehicles had been seized by the hire purchase company but that they would be returned if licences were obtained.
Mr, G. D. Squibb, president of the Tribunal, said that warnings had been given to Salmond at a public inquiry. Despite this warning the vehicles carried traffic which was 89 to 95 per cent outside the declaration of the normal user. No useful purpose would be served by suspending the vehicles and the action of the Licensing Authority was appropriate as no work was available. The appeal was dismissed.
Licence Transfer Questioned ALSO on Tuesday, M. Allan (Carriers) Ltd., appealed at Edinburgh against the Scottish Licensing Authority's rejection of a transfer of four licences from William Wood to Allan.
Mr. T. H. Campbell Wardlaw detailed extended arrangements for the sale of the William Wood business to the applicants by an agreement of April 20, 1962, whereby Wood confirmed the intention to transfer 10 vehicles with appropriate licences. A trust document was signed by William Wood on August 29, 1962, and the liquidator asked a brief respite and allowed Mr. Wood to continue to run the business. It thus became a question as to whether Mr. Wood continued to be the "user ". What the Authority was concerned with was: "was there a business to sell? "
Applications for short-term licences were granted to M. Allan (Carriers) Ltd., said Mr. Wardlaw, When these licences expired the position was chaotic, but what was never at issue at all was that there was a business to sell, which was all that the Tribunal should be concerned with. It would be a tragedy if the creditors were to be denied their due returns front the business. Since the matter was left very much in the air, he suggested it should. now be referred back to the L.A. A short-,