Not Bus "'rivers A MIE' good wishes from both sides of
10th May 1963
Page 11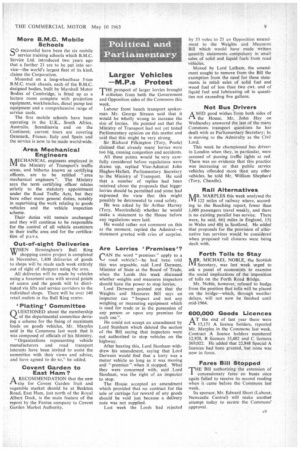 Page 11, 10th May 1963 —
Not Bus "'rivers A MIE' good wishes from both sides of
Close
the House, Mr. John Hay on Wednesday answered the last of the many Commons transport questions he has dealt with as Parliamentary Secretary; he Lord.This to the Admiralty as the Civil rd This week he championed bus driven in London when they, in particular, were accused of passing traffic lights at red. There was no evidence that this practice was increasing or that public service vehicles offended more than any other vehicles, he told Mr, William Shepherd (Tory, Cheadle).
Rail Alternatives
MARPLES this week analysed the al 122 miles of railway where, according to the Beeching report, fewer than 1,000 passengers travel weekly, and there is no existing parallel bus service. There were, he said, 661 miles in England, 154 in Wales and 40+ in Scotland. He added that proposals for the provision of alternative bus services would be considered when proposed rail closures were being dealt with.
Forth Tolls to Stay JR. MTCHAEL NOBLE, the Scottish Secretary, was last week urged to ask a panel of economists to examine the social implications of the imposition of tolls on the Forth Road Bridge. Mr. Noble, however, refused to budge from the position that tolls will be placed on the bridge—which, through weather delays, will not now be finished until mid-1964.
600,000 Goods Licences AT the end of last year there were 15,171 A licence holders, reported Mr. Marples in the Commons last week. Contract A licence holders numbered 12,920. B licences 35,482 and C licences 569,022. He added that 22,848 Special A licences had been granted, but none was now in force.
Fares Bill Stopped
THE Bill authorizing the extension of
concessionary fares on buses once again failed to receive its second reading when it came before the Commons last week.
Its sponsor. Mr. Edward Short (Labour, Newcastle Central) will make another attempt today to secure the Commons' approval.