More B.M.C. Mobile Schools S O successful have been the six
10th May 1963
Page 11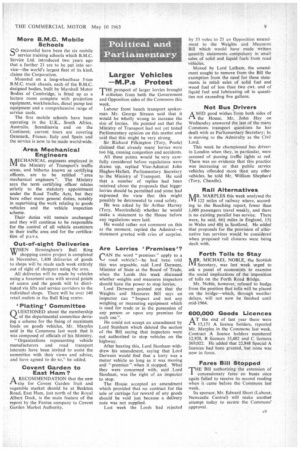 Page 11, 10th May 1963 —
More B.M.C. Mobile Schools S O successful have been the six
Close
mobile service training schools which B.M.C. Service Ltd. introduced two years ago that a further 21 are to be put into service—the world's largest fleet of its kind, claims the Corporation.
Mounted on a long-wheelbase 5-ton B.M.C. truck chassis, each of the B.M.C. designed bodies, built by Marshall Motor Bodies of Cambridge, is fitted up as a lecture room complete with projection equipment, workbenches, diesel pump test equipment and a comprehensive range of service tools.
The first mobile schools have been operating in the U.K., South Africa, Australia, Scandinavia and on the Continent; current tours are covering Denmark, France, Italy and Spain and the service is now to be made world-wide.
Area Mechanical Engineers NiTECHANICAL engineers employed in IVI the Ministry of Transport's traffic areas, and hitherto known as certifying officers, are to be retitled "area mechanical engineers ". The Ministry says the term certifying officer relates strictly to the statutory appointment under the Road Traffic Acts, but they have other more general duties, notably in supervising the work relating to goods vehicles and the vehicle inspection scheme.
Their duties will remain unchanged and they will continue to be responsible for the control of all vehicle examiners in their traffic area and for the certification of p.s.v.s.
Out-of-sight Deliveries WHEN Birmingham's Bull Ring VV shopping centre project is completed in November, 1,400 deliveries of goods to shops will be made each week entirely out of sight of shoppers using the area.
All deliveries will he made by vehicles using a basement area with several points of access and the goods will be distributed via lifts and service corridors to the individual shops. There will be over 140 retail outlets in the Bull Ring centre.
Plating' Committee
UESTIONED about the membership '-.Z. of the departmental committee devising a scheme for the fixing of maximum loads on goods vehicles, Mr. Marples said in the Commons last week that it was composed of officials of his Ministry.
"Organizations representing vehicle manufacturers and road transport interests have been invited to assist the committee with their views and advice, and have agreed to do so," he added.
Covent Garden to East Ham?
A RECOMMENDATION that the new 1-11. site for Covent Garden fruit and vegetable market should be at Beckton Road, East Ham, just north of the Royal Albert Dock, is the main feature of the report by the Fantus company to Covent Garden Market Authority.