Larger Vehicles —M.P.s Protest
10th May 1963
Page 11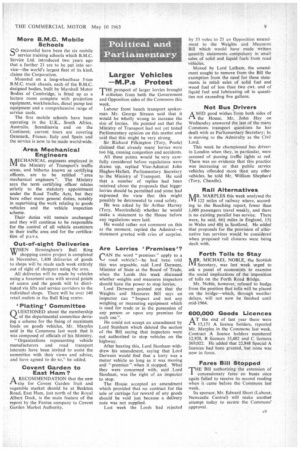 Page 11, 10th May 1963 —
Larger Vehicles —M.P.s Protest
Close
THE prospectof larger lorries brought criticism from both the Government and Opposition sides of the Commons this week.
Labour front bench transport spokesman Mr. George Strauss said that it would be wholly wrong to increase the size of lorries. He pointed out that the Ministry of Transport had not yet tested Parliamentary opinion on this matter and said that this might be very strong.
Sir Richard Pilkington (Tory, Poole) claimed that already many lorries were too big, causing congestion and accidents.
All these points would he very carefully considered before regulations were drawn up, replied Vice-Admiral John Hughes-Hallett, Parliamentary Secretary to the Ministry of Transport. He said that a number of replies had been received about the proposals that bigger lorries should be permitted and some had expressed the view that this might possibly be detrimental to road safety.
He was asked by Sir Arthur Harvey (Tory, Macclesfield) whether he would make a statement to the House before any regulations were laid.
He would rather not comment on this at the moment, replied the Admiral—a statement greeted with cries of surprise.