Passing Comments
10th March 1944
Page 16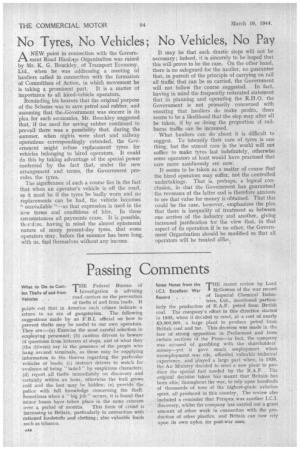 Page 17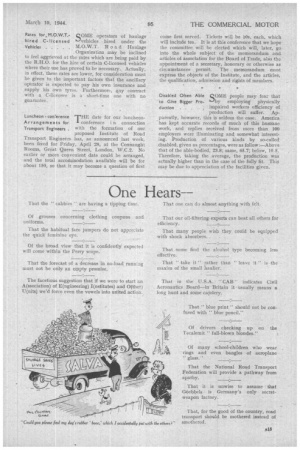 Page 16, 10th March 1944 —
Passing Comments
Close
What to Do to ComTHE Federal Bureau of
bat Thefts of and from Investigation is advising Vehicles road carriers on the prevention
of thefts of and from loads. It points out that in America such crimes indicate a return to an era of gangsterism. The following suggestions made by an F.B.I. official on how to prevent thefts may be useful to our own operators. They are:—(a) Exercise the most careful selection in employing personnel; (b) caution drivers to beware of questions from loiterers at stops, and of what they (the drivers) say in the presence of the people who hang arr-und terminals, as these may be supplying information to the thieves regarding the particular vehicles or loads; (c) instruct drivers to watch for -evidence of being " taffel " by suspicious characters; (4) report all' thefts immediately on discovery -and certainly within an hour, otherwise the trail grows cold and the loot -may be hidden; (e) provide the.• police with full knowledge concerning the theft. Sometimes when a " big job" occurs, it is found that minor losses have taken place in the same concern over a period of months. This form of crime is increasing in Britain, particularly in connection with rationed "foodstuffs and clothing; also valuable loads such as tobacco.
Some Notes from the
I.C.I. Excellent War THE recent review by Lord
McGowan of the war record McGowan of the war record of Imperial Chemical Indus
tries, Ltd., mentioned particularly the production of R.A.F. petrol from British coal. The company's effort in this direction started in 1935, when it decided to erect, at a cost of nearly £3,000,000, a large plant to produce petrol from British coal and tar. This decision was made in the face of strong opposition in parliament and from certain sections of the Press—in fact, the company was accused of gambling with the shareholders' money—yet it gave rnuch employment when unemployment was rife, afforded . valuable technical experience, and played a large part when, in 1939, the Air Ministry decided to erect a new plant to produce the special fuel needed by the R.A.F. The oriminal decision taken has meant that Britainhas been able, throughout the war, to rely upon hundreds of thousands of tons of the highest-grade aviation spirit, all produced in this country. The review also included a reminder that Perspex was another I.C.I. discovery, whilst the company has carried out a great amount of other work in connection with the production of other plastics, and Britain can now rely upon its own nylon for post-war uses.
Rates for M.O.W.T.hired C-licensed Vehicles
SOME operators of haulage vehicles hired under the M.O.W.T. Road Haulage Organization may be inclined to feel aggrieved at the rates which are being paid by the R.H.O. for the hire of certain C-licensed vehicles where their use has proved to be necessary. Actually, in effect, these rates are lower, for consideration must be given to the important factors that the "ancillary operator is expected to pay• his own insurance and , supply his own tyres. Furthermore, any contract with a C-licensee is a short-time one with no guarantee.
Luncheon conference HE date for our luncheon Arrangements for I conference i n connection Transport Engineers . with the formation of our proposed Institute of Road Transport Engineers has, as announced .last week, been fixed for Friday, April 28, at the Connaught Rooms, Great Queen 'Street, London, W.C.2. No earlier or more convenient date could be arranged, and the total accoMmodation available will be for about 130, so that it may become a question of first come first served. Tickets will be 10s. each, which will include tea. It is at this conference that we hope the committee will be elected which will, later, go into the whole subject of the memorandum and articles of association for the Board of Trade, also the appointment of a secretary, honorary or otherwise as circumstances permit. The memorandum must express the objects of the Institute, and the articles, the qualification, admission and rights of members.
Disabled Often Able QOME people may fear that to Give Bigger Proby employin& physically duction impaired workers efficiency of
production will suffer. Apparently, however, this is seldom the case. America has kept accurate records of much of this humane work, and replies received from more than 100 employers were illuminating and somewhat interesting. Production of various kinds by so-called disabled, given as percentages, were as follow:—Above that of the able-bodied, 23.8; same, 65.7; below, 10.3.. Therefore, taking the .average, the production was actually higher than in the case of the fully fit. Thia may be due to appreciation of the facilities given.