'bad for Dover'
10th June 1977
Page 5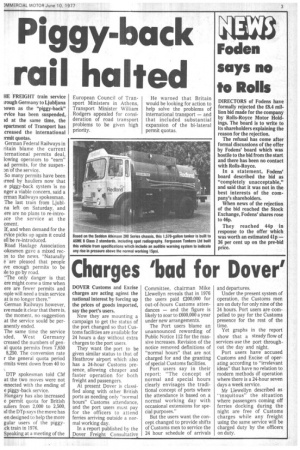 Page 5, 10th June 1977 —
'bad for Dover'
Close
Committee, chairman Mike Llewellyn reveals that in 1976 the users paid £200,000 for out-of-hours Customs attendances — and the figure is likely to soar to E600,000 a year under new arrangements.
The Port users blame an unannounced rewording of Public Notice 112 for the massive increases. Revision of the notice removed definitions of "normal hours" that are not charged for and the granting of special Customs facilities.
Port users say in their report: "The concept of normal and special hours clearly envisages the traditional concept of ports where the attendance is based on a normal working day with occasional extensions for special purposes."
But the users want the concept changed to provide shifts of Customs men to service the 24 hour schedule of arrivals and departures.
Under the present system of operation, the Customs men are on duty for only nine of the 24 hours. Port users are compelled to pay for the Customs presence for the rest of the time.
Yet graphs in the report show that a steady flow of services use the port throughout the day and night.
Port users have accused Customs and Excise of operating according to "irrelevant ideas" that have no relation to modern methods di' operation where there is a 24-hour seven days a week service.
Mr Llewellyn described as "iniquitous" the situation where passengers coming off ferries docking during the night are free of Customs charges while any freight using the same service will be charged duty by the officers on duty.