42 We have a four-wheel breakdown vehicle which' is used
10th June 1977
Page 47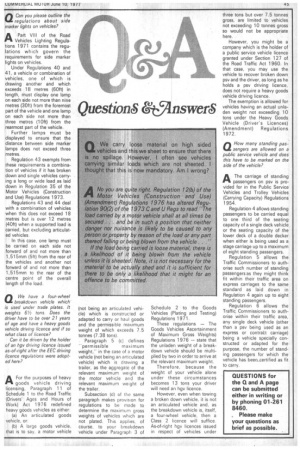 Page 47, 10th June 1977 —
42 We have a four-wheel breakdown vehicle which' is used
Close
under trade plates. It weights 61/2 tons. Does the driver have to be over 21 years of age and have a heavy goods vehicle driving licence and if so what class of licence?
Can it be driven by the holder of an hgv driving licence issued as-of-right after the EEC driving licence regulations were adopted here?
AFor the purposes of heavy goods vehicle driving licensing, Paragraph 11 of Schedule 1 to the Road Traffic (Drivers' Ages and Hours of Work) Act 1976 redefined heavy goods vehicles as either:
(a) An articulated goods vehicle, or: (b) A large goods vehicle, that is to say, a motor vehicle (not being an articulated vehicle) which is constructed or adapted to carry or haul goods and the permissible maximum weight of which exceeds 7.5 tonnes (7.38 tons).
Paragraph 5 (c) defines
"permissible maximum weight,in the case of a motor vehicle (not being an articulated vehicle) which is drawing a trailer, as the aggregate of the relevant maximum weight of the motor vehicle and the relevant maximum weight of the trailer.
Subsection (d) of the same paragraph makes provision for regulations to be made to determine the maximum gross 'weights of vehicles which are not plated. This applies, of course, to your breakdown vehicle under Paragraph 3 of Schedule 2 to the Goods Vehicles (Plating and Testing) Regulations 1971.
These regulations — The Goods Vehicles Ascertainment of Maximum Gross Weights) Regulations 1976 state that the unladen weight of a breakdown vehicle should be multiplied by two in order to arrive at the relevant maximum weight.
Therefore, because the weight of your vehicle alone under these circumstances becomes 13 tons your driver will need an hgv licence.
However, even when towing a broken down vehicle, it is not an articulated vehicle and, as the breakdown vehicle is, itself, a four-wheel vehicle, then a Class 2 licence will suffice. As-of-right hgv licences issued in respect of vehicles under three tons but over 7.5 tonnes gross, are limited to vehicles not exceeding 10 tonnes gross so would not be appropriate here.
However, you might be a company which is the holder of a public service vehicle licence granted under Section 127 of the Road Traffic Act 1960. In that case, you may use the vehicle to recover broken down psv and the driver, as long as he holds a psv driving licence, does not require a heavy goods vehicle driving licence.
The exemption is allowed for vehicles having an actual unladen weight not exceeding 10 tons under the Heavy Goods Vehicle (Driver's Licences) (Amendment) Regulations 1972.