MON Deufg.
10th June 1977
Page 29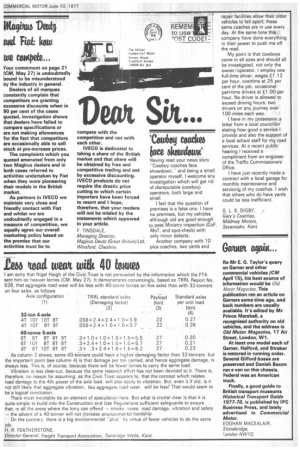 Page 29, 10th June 1977 —
MON Deufg.
Close
mild Fick low
• .•
tour commment on page 21 (CM, May 27) is undoubtedly bound to be misunderstood by the industry in general.
Dealers of all marques constantly complain that competitors are granting excessive discounts when in 90 per cent of the cases quoted, investigation shows that dealers have failed to compare specifications or are not making allowances for the fact that competitors are occasionally able to sell stock at pre-increase prices.
The complaints which you quoted emanated from only two Magirus dealers and in both cases referred to activities undertaken by Fiat when they were pioneering their models in the British market.
As partners in IVECO we maintain very close and friendly contact with Fiat and whilst we are undoubtedly engaged in a measure of competition, we equally agree our overall marketing policy based on the premise that our activities must be to compete with the competition and not with each other.
IVECO is dedicated to taking a share of the British market and that share will be obtained by free and competitive trading and not by excessive discounting. IVECO products do not require the drastic price cutting to which certain importers have been forced to resort and I hope, therefore, that your readers will not be misled by the statements which appeared in your article.
F. TINSDALE, Managing Director, Magirus Deutz (Great Britain) Ltd. Wins ford, Cheshire.