SHORT HAULS
10th June 1977
Page 19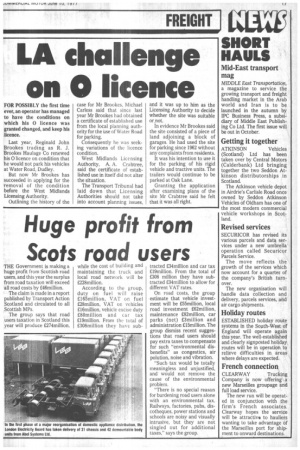 Page 19, 10th June 1977 —
SHORT HAULS
Close
Mid-East transport mag
MIDDLE East Transportation, a magazine to service the growing transport and freight handling market in the Arab world and Iran is to be launched in the autumn by IPC Business Press, a subsidiary of Middle East Publishing Co Ltd. The first issue will be out in October.
Getting it together
ATKINSON Vehicles (Scotland) Ltd has been taken over by Central Motors (Calderbank) Ltd bringing together the two Seddon Atkinson distributorships in Scotland.
The Atkinson vehicle depot in Airdrie's Carlisle Road once owned by Seddon Atkinson Vehicles of Oldham has one of the most modern commercial vehicle workshops in Scotland.
Revised services
SECUR1COR has revised its various parcels and data services under a new umbrella operation called Securicor Parcels Service.
The move reflects the growth of the services which now account for a quarter of the company's British turnover.
The new organisation will handle data collection and delivery, parcels services, and air cargo shipments.
Holiday routes
ESTABLISHED holiday route systems in the Sonth-West of England will operate again this year. The well-established and clearly signposted holiday. routes will be in operation to relieve difficulties in areas where delays are expected.
French connection
CLEARWAY Trucking Company is now offering a new Marseilles groupage and full load service.
The new run will be operated in conjunction with the firm's French associates. Clearway hopes the service will be attractive to hauliers wanting to take advantage of the Marseilles port for shipment to onward destinations.