New International Organization
10th December 1948
Page 43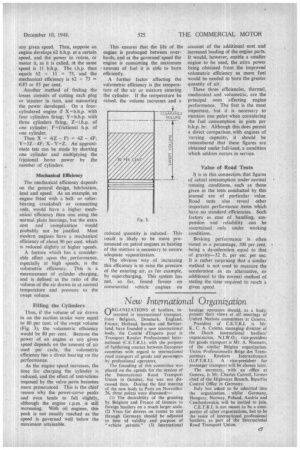 Page 43, 10th December 1948 —
New International Organization
Close
nRGANIZATIONS of hauliers, in
terested in international transport, from Belgium, Denmark, England. France, Holland, Sweden and Switzerland, have founded a new international body, the Comite d'Experts poor lc Transport Routier Profession ml International (C.E.T.R.I.), with the purpose of furthering contact between European countries with regard to international road transport of goods and passengers by professional operators.
The founding of this committee was placed on the agenda for the session of the International Road Transport Union in October, but was not discussed then. During the first meeting of the new body in Paris on November 26, three points were discussed:— (I) The desirability of the granting by Belgium and France of licences to foreign hauliers on a much larger scale. (2) Visas for drivers on routes to and through Germany should be adjusted to time of validity and purpose of " vehicle permits." (3) International
haulage operators should, as a body. present their views at all meetings of United Nations committees at Geneva.
President of C.E.T.R.I. is Mr. K. C. A. Colette, managing director of the Dutch international hauliers' organization, N.I.W.O.; vice-president for goods transport is Mr. A. Naessens, of the similar Belgian organization, Union Professionnelle Beige des Trans
porteurs Routiers Internationaux (U.P.T.R.I.). A vice-president for passenger transport will be chosen later.
The secretary, with an office at Geneva, is Mr. Charles Carroll, former chief of the Highways Branch, Bipartite Control Office in Germany.
Italy has aged to be admitted into the organization, whilst Germany, Hungary, Norway, Poland, Austria and Czechoslovakia will be invited to join.
C.E.T.R.I. is not meant to be a competitor of other organizations, but to be the voice of international professional hauliers, as part of the International Road Transport Union.