Personal Pars
10th December 1948
Page 32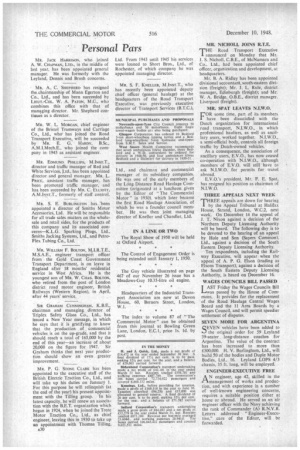 Page 32, 10th December 1948 —
Personal Pars
Close
MR. JACK HARRISON, who joined A. W. CHAPMAN, LTD., in the middle of last year, has been appointed general manager. He was formerly with the Leyland, Dennis and Brush concerns.
MR. A., C. SHEPHERD has resigned the chairmanship of Mann Egerton and Co., Ltd., and has been succeeded by LIEUT.-COL. W. A. ['law M.G., who combines this office with that of managing director. Mr. Shepherd continues as a director.
MR. W. L. MORGAN, chief engineer of the Bristol Tramways and Carriage Co., Ltd.. who has joined the Road Transport Executive, will be succeeded by MR. E. G. Harm B.Sc., A.M.I.Mech.E., who joined the company in 1945 as assistant engineer.
MR. EDMUND PHILLIPS, M.INST.T.,
director and traffic manager of Red and White Services, J..td., has been appointed director and general manager. MR. L. PRICE, assistant traffic manager, has been promoted traffic manager, and has been succeeded by MR. C. Etitorr, A.M.IN•s-r.T., formerly of staff control.
MR. S. E. BURLINGTON has been appointed a director of Smiths Motor Accessories, Ltd. He will be responsible for all trade sales matters on the wholesale and retail sides, for the products of this company and its associated concerns—K.L.G. Sparking Plugs, Ltd., Smiths Jacking Systems, Ltd., and PetroFlex Tubing Co., Ltd.
MR. WILLtxm F. BOLTON, Mr.I.R.T.E., M.S.A.E., engineer transport officer from the Gold Coast Government Transport Department, is on leave in England after 18 months' residential service in West Africa. He is the youngest son of MR. W. CHAS. BOLTON, who retired from the post of London district road motor engineer, British Railways (Western Region), in April, after 44 years' service.
SIR GRAHAM CUNNINGHAM, K.B.E., chairman and managing director of Triplex Safety Glass Co., Ltd., has issued a New Year message, in which he says that it is gratifying to know that the production of commercial vehicles is on the up-grade, and that it should reach a total of 165,000 by the end of this year—an increase of about 20,000 on the figure for 1947. Sir Graham thinks that next year production should show an even greater improvement.
MR. P. G. STONE CLARK has been appointed to the executive staff of the British Electric Traction Co., Ltd., and will take up his duties on January I. For this purpose he will relinquish (at the end of the year) his present appointment with the Tilling group. in his latest capacity, he will renew an association with the B.E.T. organization which began in 1924, when he joined the Trent , Motor Traction Co., Ltd., as chief engineer, leaving this in 1930 to take up an appointment with Thomas Tilling,
a30 Ltd. From 1943 until 1945 his services were loaned to Short Bros., Ltd., of Rochester, of which company he was appointed managing director.
MR. S. F. KNELLER, M.INST.T., who has recently been appointed deputy chief officer (general haulage) at the headquarters of the Road Transport Executive, was previously executive director of Transport Services (B.T.C.),
MLrNICIPAL PURCHASES AND PROPOSALS Newcastle-upon-Tyne City Council requires 50 trolleybuses and 50 motorbuses. Eight Eagle tower-wagon bodies arz also being purchased.
Glasgow Corporation has ordered 10 Bedford 5-ron short-wheelbase tipping lorries and a Bedford long-wheelbase 5-ton hydraulic end-tipper From S.M.T. Sales and Service.
West Sussex Health Committee recommends that seven ambulances (three Daimler. three Bedford and a W.D. conversion) be ordered for delivery in 1948-59, and four ambulances (three Bedford and a Daimler) for delivery its 1950-51..
Ltd, and chairman and commercial manager ot its subsidiary companies. He was one of the early members of the Long Distance Road Haulage Committee (originated at a luncheon given by the Editor of "The Commercial Motor" in 1930), which later became the first Road Haulage Association, of which he was a founder 'council member. He was then joint managing director of Kneller and Chandler, Ltd.
IN A LINE OR TWO The Royal Show of 1950 will be held at Oxford Airport.
The Control of Engagement Order is being extended until January I, 1950.
The Guy vehicle illustrated on page 467 of our November 26 issue has a Meadows-Guy 10.35-litre oil engine.
Headquarters of the Industrial Transport Association are now at Devon House, 60, Berners Street, London, W.I.
The index to volume 87 of "The Commercial Motor" can be obtained from this journal at Bowling Green Lane, London, E.C.1, price Is. Id. by post.
Tags
People
:
S. E. BURLINGTON
,
W. L. MORGAN
,
C. Etitorr
,
C. SHEPHERD
,
EDMUND PHILLIPS
,
P. G. STONE CLARK
,
JACK HARRISON
,
W. CHAS
,
S. F. KNELLER
,
L. PRICE
,
Thomas Tilling
,
GRAHAM CUNNINGHAM