No Date Fixed for "Big Six" Plan to Standardize Parts
10th December 1948
Page 30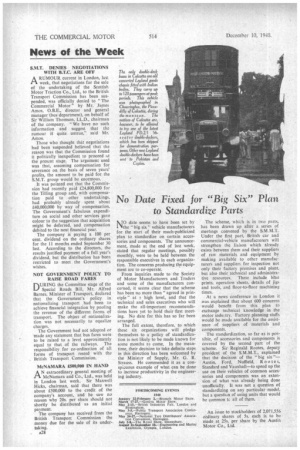 Page 30, 10th December 1948 —
No Date Fixed for "Big Six" Plan to Standardize Parts
Close
MO date seems to have -been set by 1 lithe "big six" vehicle manufacturers for the start of their much-publicized plan to standardize on certain accessories and components. The announcement, made at the end of last week, stated that regular meetings, possibly monthly, were to be held between the responsible executives in each organization. The concerns producing the equipment are to co-operate.
From inquiries made to the Society of Motor Manufacturers and Traders and some of the manufacturers concerned, it seems clear that the scheme has been no more than "agreed in principle" at '2 high level, and that the technical and sales executives who will make the all-important recommendations have yet to hold their first meeting. No date for this has so far been arranged.
The full extent, therefore, to which these six organizations will pledge themselves to a policy of standardization is not likely to be made known for some months to come, In the meantime, their decision to take definite steps in this direction has been welcomed by the Minister of Supply, Mr. G. R. Strauss. He commended it as a conspicuous example of what can be done to increase productivity in the engineering industry. The scheme, whizh is in two parts. has been drawn up after a series of meetings convened by the S.M.M.T. Under the first part, British car and commercial-vehicle manufacturers will strengthen the liaison which already exists between them and their suppliers of raw Materials and equipment by making available to other manufacturers and suppliers for inspection not only their factory premises and plant. but also their technical and administrative resources. These include blue prints, operation sheets, details of jigs and tools, and floor-to-floor machining times.
At a news conference in London it was explained that about 600 concerns would benefit from this plan to exchange technical knowledge in the motor indu ;try. Factory planning staffs would he made available for the assistance of suppliers of materials and components.
The standardization, so far as is possible, of accessories and components is eovered by the second part of the scheme. Sir Reginald Rootes, deputy president of the S.M.M.T., explained that the decision of the "big six "— Austin, Ford, Nuffield, Roote s, Standard and Vauxhall—to speed tip the use on their vehicles of common accessories and components was an extension of what was already being done unofficially. It was not a question of standardizing on any particular model, but a questit,n of using units that would be common tc all of th.em.
An issue to stockholders of 2,071,556 ci-rdinary shares of 5s. each is to be made at 25s. per share by the Austin Motor Co., Ltd.