One Hears
10th December 1948
Page 29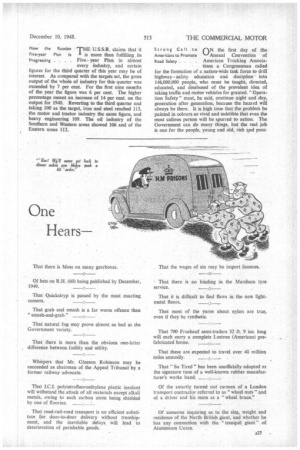 Page 29, 10th December 1948 —
One Hears
Close
That there is Moss on many gearboxes.
Of bets on R.H. (60) being published by December, 1949.
That Quickstryp is passed by the most exacting censors.
That grab and smash is a far worse offence than " smash-and-grab " That natural fog may prove almost as bad as the Government variety.
That there is more than the obvious one-letter difference between futility and utility.
Whispers that Mr. Gleason Robinson may be succeeded as chairman of the Appeal Tribunal by a former railway advocate.
That I.C.I. polytetrafluoroethylene plastic insulant will withstand the attack of all materials except alkali metals, owing to each carbon atom being shielded by one of fluorine.
That road-rail-road transport is no efficient substitute for door-to-door delivery without transhipment, and the inevitable delays will lead to deterioration of perishable goods. That the wages of sin may be import licences.
That there is no binding in the Marsham tyre service.
That it is difficult to find flaws in the new lightmetal floors.
That most of the yarns about nylon are true, even if they be synthetic.
That 700 Fruehauf semi-trailers 32 ft. 9 ins, tong will each carry a complete Lustron (American) prefabricated house.
That these are expected to travel over 40 million miles annually.
That "So Tired" has been unofficially adopted as the signature tune of a well-known rubber manufacturer's works band.
Of the smartly turned out carmen of a London transport contractor referred to as "wheel nuts" and of a driver and his mate as a "wheel brace."
Of someone inquiring as to the size, weight and residence of the North British giant, and whether he has any connection with the "tranquil giant of Aluminium Union.