Where the Country Carrier Still Predominate
10th August 1956
Page 48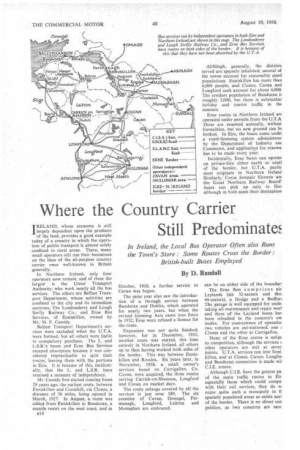 Page 49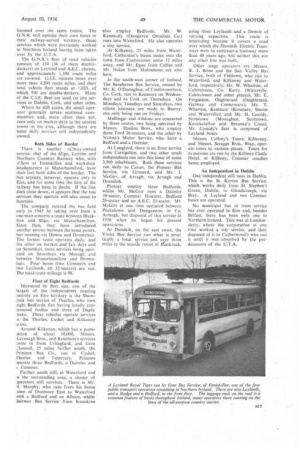 Page 48, 10th August 1956 —
Where the Country Carrier Still Predominate
Close
• In Ireland, the Local Bus Operator Often also Runs the Town's Store : Some Routes Cross the Border : British-built Buses Employed By D. Randall
IRELAND, whose economy is still largely dependent upon the products of the land, provides a good example today of a country in which the operation of public transport is almost solely confined to rural areas. There, many small operators still run their businesses on the lines of the all-purpose country carrier once well-known in Britain generally.
In Northern Ireland, only four operators now remain, and of these the largest is the Ulster Transport Authority, who work nearly all the bus services. The others are Belfast Transport Department, whose activities are confined to the city and its immediate environs, The Londonderry and Lough Swilly Railway Co., and Erne Bus Services, of Enniskillen, owned by Mr. M. F. Cassidy.
Belfast Transport Department's services were excluded when the U.T.A. were formed, but all others were liable to compulsory purchase. The L. and L.S.R.'s buses and Erne Bus Services escaped absorption because it was considered impracticable •to split their routes, leaving them with the portions in Eire. It is because of this, incidentally, that the L. and L.S.R. have retained a measure of independence.
Mr. Cassidy first started running buses 29 years ago, the earliest route, between Enniskillen and Cootehill, via Clones, a distance of 36 miles, being opened in March, 1927. In August, a route was added from Enniskillen to Bundoran, a seaside resort on the west coast, and in
B I 4
October, 1930, a further service to Cavan was begun.
The same year also saw the introduction of a through service between Bundoran and Dublin, which operated for nearly two years, but when the revised licensing Acts came into force in 1932, Erne were refused a licence for the route.
Expansion was not quite finished, however, for in December, 1932, another route was started, this time entirely in Northern Ireland, all others up to then having worked both sides of the border. This was between Enniskillen and Rosslea. Six years later, in November, 1938, a small owner's services based on Carrigallen, Co. Cavan, were acquired, the three routes serving Carrick-on-Shannon, Longford and Cavan on market days.
The route mileage covered by all the services is just over 180. The six counties of Cavan, Donegal, Fermanagh, Longford, Leitrim and Monaghan are embraced, Although, generally, the districts served are sparsely inhabited, several of the towns account for reasonably sized populations. Enniskillen has more than 6,000 people, and Clones, Cavan and Longford each account for about 4,0130. The resident population of Bundoran b roughly 2,000, but there is substantial holiday and tourist traffic in the summer.
Erne routes in Northern Ireland are operated under permits from the U.T.A These are renewed annually, withoui formalities, but no new ground can bc broken. In Eire, the buses come uncle] a route-licensing system administerec by the Department of Industry am Commerce, and application for renewa has to be made every year.
Incidentally, Erne buses can operat4 on private-hire either north or soutl of the border, but U.T.A. partie must originate in Northern Ireland Similarly, Coras Iompair Eireann am the Great Northern Railway Board' buses can pick up only in Eire although in both cases their destination can be on either side of the boundan The Erne fleet comprises nin Leylands (six 32-seaters and thrc 44-seaters), a Dodge and a Bedfori The garage is well equipped for unclei taking all maintenance and repair wonl and three of the Leyland buses haN been rebodied in the concern's ow works. For convenience of operatics] two vehicles are out-stationed, one Clones and the other at Carrigallen.
None of the Erne routes is subjei to competition, although the services c other operators are met at seven points. U.T.A. services run into Enni killen, and at Clones, Cavan, Longfot and Bundoran connection is made wit C.I.E. routes.
Although C.I.E. have the greater pa of the main traffic routes in Eir especially those which could compe with their rail services, they do tu enjoy quite such a monopoly in sparsely populated areas as exists nonl of the border. There is no direct con petition, as two concerns are rare licensed over the same routes. The G.N.R. still operate their own buses in their railway-served territory, those services• which were previously worked in Northern Ireland having been taken over by the U.T.A.
The G.N.R.'s fleet of road vehicles consists of 154 (36 of them doubledeckers) on Leyland and A:E.C. chassis, and approximately 1,100 route miles are covered. G.I.E. operate buses over more than 4,200 route miles, and their total vehicle fleet stands at 1,020, of Which 590 are double-deckers. Many of the C.I.E. fleet are used on city set.vices in Dublin, Cork, and other cities.
Where he still exists, the sinall operator generally serves scattered communities and, more often than not, runs only on market days to the nearest towns in his area, although there are some daily services still independently owned.
Both Sides of Border There is another railway-owned service, that of the Sligo, Leitrim and Northern Counties Railway who, with Cdices at Enniskillen and workshop headquarters at Manorhamilton, have their feet both sides of the border. The bus services, however, operate only in Eire, and for some time the fate of the railway has been in doubt. If the line does close down, it appears that the bus services they operate will, also cease to function.
The company entered the bus field only in 1945 by taking over from a one-man concern a route between Blacklion and Sligo. via Manorhamilton. Since, then, they have introduced another service between the same points, but running via Dowra and Dromahair. The former route operates daily, and the other on market and fair days and cm Saturdays, extra services being operated on Saturdays via Moragh and between Manorhamilton and Dromahair. Four buses (two Commers and two Leylands, all 32-seaters) are run. The totahroute mileage is 98.
Fleet of Eight Bedfords Measured by fleet size, one of the largest of the independents running :.ntirely on Eire territory is the Shamrock bus service of Thurles, who own ,tight Bedfords, five having locally constructed bodies and three of Duple nake. These vehicles operate services n the Thurles, Cashel and Kilkenny 'treas.
Around Kilkenny, which has a popuation of about 10,000, Messrs. Cavenagh Bros., and Rencham's services :ome in from Urlingford, and from Donmel, 25 miles farther south, the Princess Bus Co., run to Cashel, fhurles and Tipperary. Princess merate three Bedfords, a Daimler and Commer.
Farther south still, at Waterford and n the surrounding area, a cluster of verators still survives. There is Mr. +I. Murphy, who runs from his home own of Dunmore East to Waterford vith a Bedford and an Albion, whilst ;uirway Bus Service from Knockroe nisei employ Bedfords. Mr, W. Kenneally (Dungaven Omnibus Co.) runs into Waterford. He also operates a city service.
At Kilkenny, 25 miles from Waterford. Culleraine's buses come into the town from Castlecomer some 12 miles away, and Mr. Egan from Callan and Mr. Nolan from Mullinhonc are also here.
In the south-west corner of Ireland, The Berehaven Bus Service, owned by Mr. K. O'Donoghue, of Castletownbere, Co. Cork, run to Kenmore on Wednesdays and to Cork on Thursdays. On Mondays, Tuesdays and Saturdays, two return journeys are made to Bantry, one only being run on Fridays.
Mullingar and Athlone are connected by three routes, two being operated by Messrs. Hanlon Bros,, who employ three Ford 26-seaters, and the other by Natton's Motor Service, who have a Bedford and a Daimler.
At Longford, there is an Erne service from Carrigallen, and two other small independents run into this town of some 3,500 inhabitants. Both these services run daily to Cavan, the Pioneer Bus Service, via Granard, and Mr. J. McGirr, of Arvagh, via Arvagh and Drumlish.
Pioneer employ three Bedfords, whilst Mr. McGirr runs a Daimler 38-seater, Commer 32-seater, Bedford 26-seater and an AE.C. 32-seater. Mr. McGirr at one time operated between Portadown and Dungannon in Co. Armagh, but disposed of this service in 1930 when he began his present operations.
At Dundalk, on the east coast, the Violet Bus Service run what is practically a local service just over three miles to the seaside resort of leackrock, using three Lcylands and a Dennis of varying capacities. This route is interesting because it covers a road over which the Dundalk Electric Tramways were to construct a tramway more than 40 years ago, but neither thu nor any other line was built.
Other stage operators are Messrs. R. J. Brine and the Suit Valley Bus Service, both of Fiddown, who run to Waterford, and Kilkenny and Waterford, respectively; Mr. W. Wharton,, of Cahirciveen, Co. Kerry (Waterville, Cahirciveen and other places); Mr. E Fergusson, Oughterard (Oughterard, Galway and Connemara); Mr. T. Wharton, Kenmare (Kenmare, &teem and Waterville); and Mr. H. Cassidy, Scotstown (Monaghan, Scotstown, Knockatallon and Brennan's Cross). Mr. Cassidy's fleet is composed of Leyland buses.
Messrs. Colloty's Tours, Killarney, and Messrs. Scraggs Bros., Bray,, operate tours to various places. Tours for its patrons arc run by the Killiney Castle Hotel-, at Killiney, Commer coaches being employed.
An Independent in Dublin One independent still runs in Dublin. This is the St. Kevins Bus Service, which works daily from St. Stephen's Green, Dublin, to Glendalough, via Bray. A Leyland and two Commer buses are operated.
No municipal bus or tram service has ever operated in Eire and, besides Belfast, there has been only one in Northern Ireland. This was at Londonderry, where the corporation at one time worked a city service, and then disposed of it to Catherwood's who ran it until it was absorbed by the predecessors of the U.T.A.
Tags
Organisations
:
Belfast Transport Department
,
Natton's Motor Service
,
Berehaven Bus Service
,
Department of Industry
,
St. Kevins Bus Service
,
Violet Bus Service
,
Ulster Transport Authority
,
Suit Valley Bus Service
,
Bus Service
,
Great Northern Railway Board
,
Pioneer Bus Service