North Western Company Introduces Atkinson Buses
10th August 1951
Page 33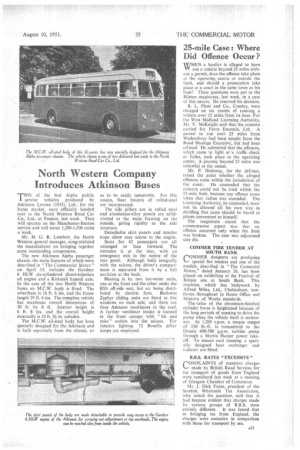 Page 33, 10th August 1951 —
North Western Company Introduces Atkinson Buses
Close
'WO of the first Alpha public service vehicles produced by Atkinson Lorries (1933), Ltd., for the 'home market, were officially handed over to the North Western Road Car Co., Ltd., at Preston, last week. They will operate on the Manchester-Buxton service and will cover 1,200-1,500 miles a week.
Mr. H. G. R. Lambert, the North Western general manager, congratulated the manufacturer on bringing together some outstanding components.
The new Atkinson Alpha passenger chassis, the main features of which were described in "The Commercial Motor" on April 13, includes the Gardner 6 HLW six-cylindered direct-injection oil engine and a Kirkstall hypoid axle. In the case of the two North Western buses an •M.C.W. body is fitted. The wheelbase is 16 ft. 6 ins, and the frame length 29 ft. 6 ins. The complete vehicle has maximum overall dimensions of • 30 ft. by 8 ft. Interior height is 6 ft. 8 ins, and the overall height externally is 10 ft. 01 in. unladen.
The M.C.W. all-steel body has been specially designed for the Atkinson and is built separately from the chassis, so as to be easily removable. For this reason, floor bearers of rolled-steel are incorporated.
The side pillars are in rolled steel and aluminium-alloy panels are solidriveted to the main framing on the outside, giving rigidity to the side structure.
Detachable skirt panels and interior traps allow easy access to the engine.
Seats for 42 passengers are all arranged to face forward. The entrance is at the rear, with an emergency exit in the centre of the rear panel. Although built integrally with the saloon, the driver's compartment is separated from it by a full partition at the back.
Heating is by two hot-water units, one at the front and the other under the fifth off-side seat, hot air being distributed by electric fans. Beclawat Zephyr sliding units are fitted to five windows on each side, and there are four Ashanco ventilators in the roof. A further ventilator intake is located in the front canopy with "hit and miss" outlets into the saloon. For interior lighting 12 Bonella pillar lamps are employed.