THE COMING OF THE MOTOR HANSOM.
10th April 1919
Page 9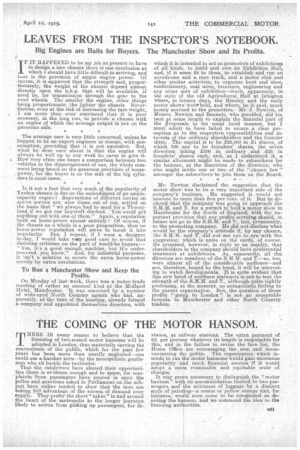 Page 9, 10th April 1919 —
THE COMING OF THE MOTOR HANSOM.
Close
THERE IS every reason to believe that the licensing of two-seated motor hansoms will be adopted in London, thus materially serving the convenience of the public, which for the past few years has been more than usually neglected—one could use a, harsher term—by the monopolistic gentlemen who sit beside the taximeter.
Tha,t the cabdrivers have abused their opportunities there is evidence enough and to spare, for complaints from passengers have poured in upon the police and questions asked in Parliament on the nibsect have rather tended to show that the menare taking full advantage of the excess, of demand over supply. They prefer the short " takes" in and around the heart of the metropolis to the longer journeys likely to accrue from picking up passengers, for in. stance, at railway stations. The extra payment of 6d. per journey whatever its length is responsible for this, and in the failure to revise the fare list, the Home Office are encouraging the men and inconveniencing the public. The organization which intends to run the Motor hansoms would gain enormous popularity and much financial success if it would adopt a more reasonable and equitable scale of charges. It may prove necessary to distinguish the "motor hansom" with its accommodation limited to two passengers and' the minimum of luggage by a distinct style of painting—a cream or yellow orange tint, for instance, would soon. come to be recognized as denoting the hansom, and we commend the idea to the licensing authorities.