For DRIVERS, MECHANICS & FOREMEN
10th April 1919
Page 21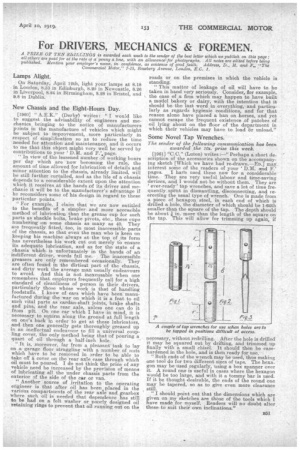 Page 21, 10th April 1919 —
For DRIVERS, MECHANICS & FOREMEN
Close
A PRIZE OF TEN SLILLINGS is awarded each week to the sender of the best letter which we publish on this page: all others are paid for at the rate of a penny a line, with an allowance, for photographs. All notes are edited before being published. Mention your employer's name, in confidence, as evidence of good faith. Address, D., M. and F., "The Commercial Motor," 7-15, Bosebe-ry Avenue, London, E.C. 1.
Lamps Alight.
On Saturday, April 12th, light your lamps at 8.18 in London, 8.53 in Edinburgh, 8.20 in Newcastle, 8.26 in Liverpool, 8.24 in Birmingham, 8.28 in Bristol, and 9.8 in Dublin.
New Chassis and the Eight-Hours Day.
[[960] " A.E.K." (Derby) writes : " I would like to suggest the advisability of engineers and mechanics bringing to the notice of manufacturers points in the manufacture of vehicles which might be subject to improvement, more particularly in respect of simplification so as to reduce the time needed for attention and maintenance, and it occurs to me that this object might very, well be served by contributions to your D.M. and F.'s page.
"In view of the lessened number of working hours per day which are now becoming the rule, the amount of time allowed for lubrication of details and minor attention to the Chassis, already limited, will be still further curtailed, and as the life of a chassis depends to a considerable extent upon the attention which it receives at the hands of its driver and mechanic it will be to the manufacturer's advantage if he reconsiders some of his design in regard to these particular points.
" For example, I claim that we are now entitled to the benefits of a simpler. and more accessible method of lubrication than the grease cup for such parts as shackle bolts, 'brake pivots, etc., these cups numbering MI some chassis as many as 40. They are frequently fitted, too, in most inaccessible parts of the chassis, so that even the man who is keen on keeping his machine always at the top of its form has nevertheless his work cut out merely to ensure its adequate lubrication, and as for the state of a chassis which is unfortunately in the hands of an indifferent driver, words fail me. The inaccessible greasers are only remembered occasionally. They are often found in the dirtiest part of the chassis, and dirty work the average man usually endeavours to avoid. And this is not inexcusable when one remembers that employers frequently call for a high standard of cleanliness of person in their drivers, particularly those whose work is that of handling foodstuffs. I know of cars which have been manufactured during the war on which it is a feat to oil such vital parts as cardan-shaft joints, brake shafts and pins, and the rear axle, unless one can do it film pit. On one car which I have in mind, it is necessary to squirm along the ground at full length on one's back in order' to get at these lubricators, and then one generally gets thoroughly greased up in an ineffectual endeavour to fill a universal coupling cover, the only method being that of pouring a quart of oil through a half-inch hole.
"It. is, moreover, far from a pleasanttask to lay on a garage floor struggling with a number of nuts which have to be removed in order to be able to take off a cover on the rear axle case through which oil must be poured. I do not think the price of any vehicle need be increased by the provision of means of lubricating all the under chassis parts from the exterior of the side of the car or van.
" Another source of irritation to the operating engineer is that after oil has been_placed in the various compartments of the rear axle and gearbox where such oil is needed that dependence has still to be had on a felt washer or poorly designed oil retaining rings to prevent that oil running out on the roads or on the premises in which the vehicle is standing.
"This matter of leakage of oil will have to be taken in hand very seriously. Consider' tor example, the case of a firm which may happen to have built a model bakery or dairy, with the intention that it should be the last word in everything, and particularly as regards hygienic conditions, and for that reason alone have placed a ban on horses, and yet cannot escape the frequent existence of patches of oil lying about on the floor of the department in which their vehicles may have to load hr unload."
Some Novel Tap Wrenches.
The sender of the following communication has been awarded the Ws. prize this week.
[1961] "C.C." (Luton) writes :—" Perhaps a short description of the accessories shown on the accompanying sketch [Which we have had re-drawn.—En.] may. interest some of the readers of your D.M. and F. pages. I have used these now for a considerable time. They are very useful labour and time-saving devices, and I would not be without them. They are ' ever-ready ' tap wrenches, and save a lot Of time frequently,spent in dismantling, disconnecting, and seerecting the usual type of wrench. One is made from a piece of hexagon steel, in each end of which is drilled a hole, the diameter of which should be 1-64th smaller than the square of the tap. The depth should be about in. more than the length of the square on the tap. This will allow for trimming up again, if
necessary, without redrilling. After the hole is drilled it may be squared out by drifting, and trimmed up finally with a small chisel. It should then be casehardened in the hole, and is then ready for use.
" Both ends of the wrench may be used, thus making one tool do for two different sizes of taps. The hexagon may be used regularly: using a box spanner over it. A round one is useful in cases where the hexagon would be too large, and with it a toren:1y bar is used. If it be thought desirable, the ends of the round one may be tapered, so as to give even more clearance still.
"I should point out that the dimensions which are given on my sketches are thbse of the tools which I have made for myself. Readers will no doubt alter. these to suit their own inclinations."