THE GREAT SMALL VAN QUESTION.
10th April 1919
Page 20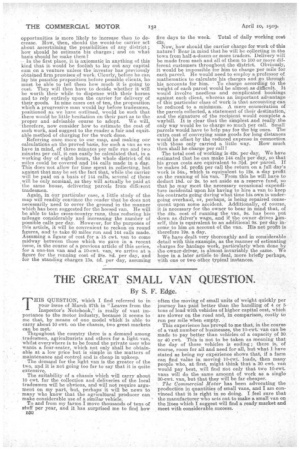 Page 20, 10th April 1919 —
THE GREAT SMALL VAN QUESTION.
Close
By S. F. Edge.
THIS QUESTION, which I find referred to in your issue of March 27th in "Leaves front the Inspector's Notebook," is really of vast importance to the motor industry, because it seems to me that, by means of one model which is able to carry about 10 cwt. on the chassis, two great markets can be met.
Throughout the country there is a demand among tradesmen, agriculturists and others far a light van, whilst everywhere is to be found the private user who wants a four-seater, which not only shall be obtainable at a low price but is simple in the matters of maintenance and control and is cheap in upkeep.
The demand for the light van is the greater of the two, and it is not going too far to say that it is quite extensive.
The suitability of a chassis which will carry about 10 cwt, for the collection and deliveries of the local tradesmen will he obvious, and will not require argument on my part, but, perhaps it will be news to many who know that the agricultural producer can
make considerable use of a similar vehicle. '
To and from my faxms I move thousands of tons of stuff per year, and it has surprised me to find how
B50
often the moving of small units of weight quickly per journey has paid better than the handling of 4 or 5 tens of load with vehicles of higher capital cost, which are slower on the road and, in comparison, costly to' run per mile when empty.
This experience has 'Proved to me that, in the course of a vast number of businesses, the 10-eriwt van can be made to pay better than vehicles ef a capacity of 30 or 40 cwt. This is not to be taken as meaning that the day of those vehicles is ending.; there is, of course, room for all and need for all, but what I have stated as being my experience shows that, if a farm can find value in moving 10-cwt. leads, then many people who, at first, might think that a 30 cwt. van wouldpay best, will find not only that two 10-cwt. vans will do the same amount of work as a single 80-cwt. van, but that they will be far cheaper.
The Commercial Motor has been advocating the production in quantities of small vans, and I am convinced that it is right in so doing. I feel sure that the manufacturer who sets out to make a small_ van on the lines which I suggest will find a ready market and meet with considerable success.