One Hears—
10th April 1913
Page 3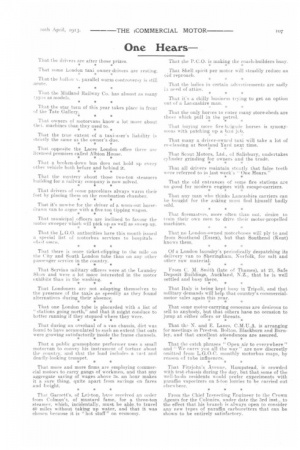 Page 3, 10th April 1913 —
One Hears—
Close
That the drivers are after those prizes.
That some London taxi owner-drivers are resting.
That the hollow V. parallel worm controversy is still acute.
That. the Midland Railway Co. has almost as many types as models.
That the star turn of this year takes place in front of the Tate Gallery.
That owners of motorvans know a lot more about then machines than they used to.
That the true extent of a taxi-user's liability is strictly the same as the owner's due.
That opposite the Lacre London office there are iicensed premises called Albion House.
That a broken-down bus does not hold up every other vehicle both before and behind it.
That the mystery about those two-ton steamers building for a railway company is now solved.
That drivers of some parcelnars always warm their feet by placing them on the combustion chamber_ That it's unwise for the driver of a worn-out horsedrawn van to argue with a five tontipping wagon.
That municipal officers are inclined to favour the motor sweeper which will pick up as well as sweep up.
That the L.G.O. authorities have this month issued a special list of motorbus services to hospitals abs?t omen..
That there is more ticket-clipping to the mile on the Cityand South London tube than on any other passenger service in the country.
That Servian military officers were at the Laundry Show and were a lot more interested in the motor exhibits than in the washing.
That Londoners are not adapting themselves to the presence of the taxis as speedily as they found alternatives during their absence.
That one London tube is placarded with a list of " stations going north," and that it might conduce to better running if they stopped where they were.
That during an overhaul of a van chassis, dirt was found to have accumulated to such an extent that oats were growing satisfactorily inside the frame channels.
That a public gramophone performer uses a small motorvan to convey his instrument of torture about.
the country. and that the load includes a \ and deadly-looking trumpet.
That. more and more firms are employing commercial motors to carry gangs of workmen, and that any aggregate saving of wages above 3s. an hour makes it a sure thing, quite apart from savings on fares and freight.
Thai Garrett's, of Leiston, have received an order from Colman's, of mustard fame, for a three-ton stea rn er, which, incidentally, must be able.. to travel 40 miles without taking up water, and that it was chosen because it is "hot stuff" on economy. That the P.C.O. is making the coach-builders busy.
That Shell spirit per motor will steadily reduce an oid reproach.
That the ladies in certain advertisements are sadly in need of attire.
That its a chilly business trying to get an option out of a Lancashire man.
That the only horses to enter many store-sheds are those which pull in the petrol.
That buying more fire-brigacie horses is synonymous: with patching, up a bad jcb.
That many a driver-owned taxi will take a lot of re-classing at Scotland Yard next time.
That Scout Motors, Ltd., of Salisbury, undertakes cylinder grinding forown*ers an.d the trade.
That all drivers maintain stoutly that false teeth were referred to in last week's " One Hears."
That the old entrances of some fire stations are no good for model.: engines with escape-carriers.
That any man who thinks Lancashire carriers can be bought. for the asking must find himself badly sold.
That fireraasters, more often than not, desire to train their own men to drive their motor-propelled machines.
That no London-owned motorbuses will ply to and from Southend (Essex), but that Southend (Kent) knows them.
Of a London laundry's periodically despatching its delivery van to Sheringham. Norfolk, for salt and other raw material.
From C. M. Smith (late of Thames), at 23, Safe Deposit Buildings, Auckland, N.Z., that he is well settled and busy there.
That Italy is being kept busy in Tripoli, and that military demands will help that. country's commercialmotor sales again this year.
That. some motor-carrying concerns are desirous to sell to anybody, but that others have no occasion to jump at either offers or threats.
That the N. and E. Lancs.. C.M.U.A. is arranging for meetings in Preston. Bolton, Blackburn and Burnley, and that excellent attendances are assured.
That the catch phrases " Open air to everywhere" and " We carry you all the way" are now discreetly omitted from L.G.O.C. monthly motorbus maps, by reason of tube influences.
That Fitzjohn's Avenue, Hampstead, is crowded with test chassis during the day, but that some of the well-to-do residents would prefer experiments with paraffin vaporizers on 5-ton lorries to be carried out elsewhere.
From the Chief Insnecting Engineer to the Crown Agents for the Colonies, under date the 3rd inst., to the effect that his branch is always open to consider any new types of paraffin carburetters that can be shown to be entirely satisfactory.