From Drivers and Mechanics.
10th April 1913
Page 19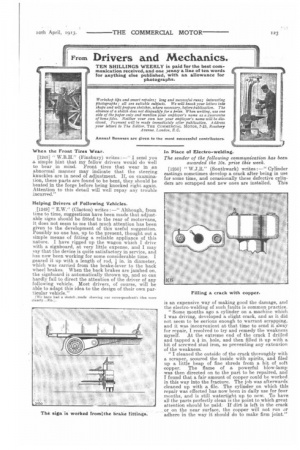 Page 19, 10th April 1913 —
From Drivers and Mechanics.
Close
TEN SHILLINGS WEEKLY is paid for the best communication received, and one ?enny a line of ten words for anything else published, with an allowance for photographs.
worksho Ups and smart repairs: long and successful runs; interesting photograPhs ; all are suitable subjects. We will knock your letters into shape and will prepare sketches, where necessary, before Oubdication. The absence of a sketch does not disqualify for a Ara& When writing, use one Side of the paper only and mention your employer's name as a guarantee of bona fides. Neither your own nor your employer's name will be disclosed. Payment rvill he made immediately after publication. Address your letters to The Editor, THE CommEncIAL MOTOR, 7.15, Rosebery
Avenue, London, E.C.
Annual Bonuses are given to the most successful contributors.
When the Front Tires Wear.
[1248] " W.B.13." (Finsbury) writes:—" I send you a simple hint that my fellow drivers would do well to bear in mind. Front tires that wear in an abnormal manner may indicate that the steering knuckles are in need of adjustment. If, on examination, these parts are found to be bent, they should be _heated in the forge before being knocked right, again. Attention to this detail will well repay any trouble incurred."
Helping Drivers of Following Vehicles.
[1249] " E.W.'' (Clacton) writes :—" Although, from time to time, suggestions have been made that adjustable signs should be fitted to the rear of motorvans, it does not seem to me that much attention has been given to the development of this useful suggestion. Possibly no one has, up to the present, thought out a simple means of fitting a reliable appliance of this nature. I have rigged up the wagon which I drive with a signboard, at very little expense, and I may say that the device is quite satisfactory in service, and has now been working for some considerable time. I geared it up with a length of rod,.1 in. in diameter, which was carried from the brake-lever to the back wheel brakes. When the back brakes are jambed on, the signboard is automatically thrown up, and so can hardly fail to direct the attention of the driver of any following vehicle. Most drivers, of course, will be able to adapt this idea to the design of their own particular vehicle."
rViie have had a sketch made showing our correspondent's idea more dearly _Ert,:, In Place of Electro-welding.
The sender of the following communication has been awarded the 108. prize this week.
[1250] " W.J.R." (Southwark) writes: —" Cylinder castings sometimes develop a crack after being in use for some time, and occasionally these defective cylinders are scrapped and new ones are installed. This is an expensive way of making good the damage, and the electro-welding of such faults is common practice. "Some months ago a, cylinder on a machine which I was driving, developed a slight crack, and as it did not seem to be serious enough to warrant scrapping, and it was inconvenient at that time to send it gway for repair, I resolved to try and remedy the weakness myself. At the extreme end of the crack I drilled and tapped a i in. hole, and then filled it up with a bit of screwed stud iron, so preventing any extension of the weakness.
"I cleaned the outside of the crack thoroughly with a scraper, scoured the inside with spirits, and filed up a little heap of fine shreds from a it of soft copper. The flame of a powerful blow-lamp was then directed on to the part to be repaired, and I found that a fair amount of copper could be worked in this way into the fracture. The job was afterwards cleaned up with a file. The cylinder on which this repair was effected has now been in daily use for four months, and is still watertight up to now. To have. all the parts perfectly clean is the point to which great attention should be paid: If dirt is left in the crack or on the near surface, the copper will not run ar adhere in the way it should do to make firm joint."