The Purchase k Department.
10th April 1913
Page 18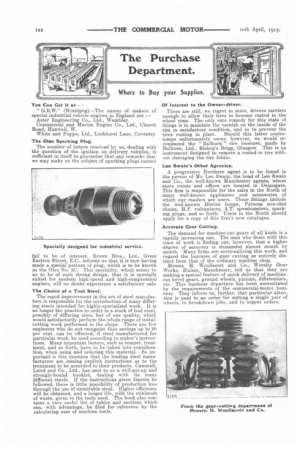 Page 18, 10th April 1913 —
The Purchase k Department.
Close
Where to Buy your Supplies.
You Can Get it at— " G.B.W." (Winnipeg).—The names of makers of
special industrial-vehicle engines in England are :Aster Engineering Co., Ltd., Wembley. Commercial and Marine Engine Co., Ltd., Church Road, Hanwell, W.
White and Poppe, Ltd., Lockhurst Lane, Coventry.
The Oleo Sparking Plug.
The number of letters received by us, dealing with the question of the ignition on delivery vehicles, is sufficient in itself to guarantee that any remarks that we may make on the subject of sparking plugs cannot
fail to be of interest. Brown Bros., Ltd., Great Eastern Street, E.C., informs us that it is now having made a special pattern of plug, which is to be known as the Oleo No. 3C. This speciality, which seems to us. to be of such strong design, that it is specially suited for .modern high-speed and high-compression engines, will no doubt experience a satisfactory sale.
The Choice of a Tool Steel.
The rapid improvement in the art of steel manufacture is responsible for the introduction of many differmg steels intended for highly-specialized work. It is no longer the practice to order in a stock of tool steel, possibly of differing sizes, but of one quality, which would satisfactorily perform the whole range of metalcutting work performed in the shops. There are few engineers who do not recognize that savings up to 50 per cent, can be effected, if steel manufactured for particular work, be used according to maker's instructions. Many important factors, such as temper, treatment, and so forth, have to be taken into consideration, when using and ordering this material. So important is this question that the leading steel manufacturers are issuing explicit instructions as to the treatment to be accorded to their products. Cammell, Laird and Co., Ltd., has sent to us a well-got-up and strongly-bound booklet, dealing with its many different steels. If the instructions given therein be followed, there is little possibility of production loss through the use of unsuitable steel. Higher efficiency will be obtained, and a longer life, with the minimum of waste, given to the tools used. The book also contains a very useful list of tables and sections which can, with advantage, be filed for reference by the calculating user of machine tools.
Of Interest to the Owner-driver.
There are still, we regret to state, drivers careless enough to allow their tires to become rusted to the wheel rims. The only sure remedy for this state of things is to maintain the varnish on the inside of the rim in satisfactory condition, and so to prevent the tires rusting in place. Should this latter contretemps unfortunately occur, however, we would recommend the " Bullturn " tire loosener, made by Bullturn, Ltd., Bishop's Brigg, Glasgow. This is an instrument designed to remove a rusted-in tire without damaging the tire fabric.
Leo Swain's Other Agencies.
A progressive Northern agent is to be found in the person of Mr. Leo Swain, the head of Leo Swam and Co., the well-known Manchester agents, whose oltore rooms and offices are located in lleansgate. This firm is responsible for the sales in the North of many well-known appliances and accessories of which our readers are users. These fittings include the well-known Bleriot lamps, Parsons non-skid chains, H.F. vulcanizers, A.T. speedometers, sparking plugs, and so forth. Users in the North should apply for a copy of this firm's new catalogue.
Accurate Gear Cutting.
The demand for machine-cut gears of all kinds is a rapidly increasing one. The man who deals with this class of work is finding out, however, that a higher degree of accuracy is demanded almost month by month. Many firms are sectionalizing this work, and regard the business of gear cutting as entirely distinct from that of the ordinary machine shop.
Messrs. H. Woollacott and Co., Worsley Gear Works, Hulfae, Manchester, tell us that they are making a special feature of quick delivery of machine. cut bevel gears, ground wheels, pinions, differentials, etc. This -business departure has been necessitated by the requirements of the commercial-motor business. They inform us, further, that particular attention is paid to an order for cutting a single pair of wheels, to breakdown jobs, and to urgent orders.