A Motor Ambulance for Horses.
10th April 1913
Page 17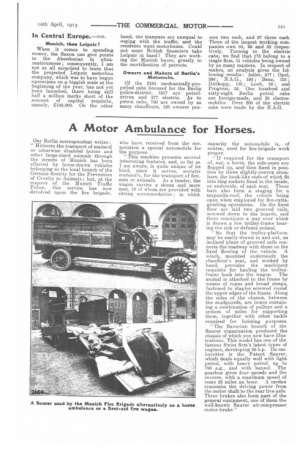 Page 17, 10th April 1913 —
A Motor Ambulance for Horses.
Close
Our Berlin correspondent writes : "Hitherto the transport of maimed or otherwise disabled horses and other large-sized animals through the streets of Munich has been effected by horse-drawn vehicles belonging to the local branch of the German Society for the Prevention of Cruelty to Animals ; but, at the request of the Munich Traffic Police, this service has now devolved upon the fire brigade.
who have received from the corporation a special automobile for the purpose.
"This machine presents several interesting features, and, so far as lam aware, is quite unique of its kind, since it serves, mutatis mutandis, for the transport of firemen or animals. As a. tender, the wagon carries a dozen and more men, 10 of whom are provided with sitting acemmnoclation ; in which
capacity the automobile is, of course, used for fire-brigade work proper.
"If required for the transport of, say, a horse, the side-seats are flapped up, and then fixed in position by three slightly-convex crossbars, the hook-like ends of which fit into ring-sockets fixed to the inside, or underside, of each seat. These bars also form a staging for a tarpaulin-roof, the vehicle being open when employed for fire-extinguishing operations. On the fixed floor are laid two grooved rails, screwed down to the boards, and these constitute a way over which is drawn a low trolley-frame bearing the sick or defunct animal.
"So that the trolley-platform may be easily drawn in and out, an inclined plane of grooved rails connects the roadway with those on the fixed flooring of the vehicle. A winch, mounted underneath the chauffeur's seat, and worked by hand, provides the machinery requisite for hauling the trolleyframe back into the wagon. The animal is attached to the frame by means of ropes and broad straps, fastened to staples screwed round the upper edges of the frame. Along the sides of the chassis, between the mudguards, are boxes containing a combination of pulleys and a system of poles for supporting them, together with other tackle required for hoisting purposes. "The Bavarian branch of the Saurer organization produced the chassis of which you now have illustrations. This model has one of the famous Swiss firm's latest types of engines, developing 30 b.p. Its carburetter is the Patent Saurer, which deals. equally well with light petrol, with heavy petrol, up to 780 e.g., and with benzol. The gearbox gives four speeds and the reverse, with a maximum speed of some 22 miles an hour. A card.an transmits the driving power from the motor shaft to the rear live axle. Three brakes also form part of the general equipment, one of them the well-known Saurer air-compressor motor-brake."